This is a Ready To Run(RTR) 1/8 buggy, very suitable for beginners.
From Arrma:
Making your move into 1/8 scale buggy bashing has never been easier. The TYPHON™ 4X4 MEGA 550 Speed Buggy brings exciting TYPHON™ buggy style to a 2S LiPo-capable brushed version that's ready for action in all terrain. Its 12T 550 brushed motor supplies rippling muscle for rock-jumping speeds. The waterproof* electronics are ready for any weather. dBoots® 2-HO tires on tough, multi-spoke wheels find traction on any surface. The Spektrum™ STX2® radio with SRX200 receiver offers many of the same features found in high-end 2.4GHz systems — throttle and servo reversing, throttle and steering travel adjust, throttle limiting and more — for the ultimate control. Precision aluminum, tough steel and composite materials come together for an easy-to-maintain, super-durable vehicle design whose high downforce wing and low center of gravity, with wide arms and narrow wheels and tires, improve handling over race tracks, trails, muddy courses, skate parks, and more.
*Note: For details on waterproof standards, refer to the instruction manual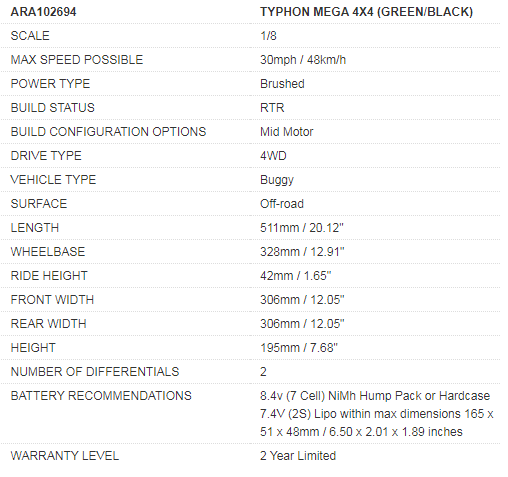 Spec:
The TYPHON 4X4 MEGA 1/8th scale Speed Buggy will provide unrivalled traction on any surface, blasting though your chosen environment, as you carve the landscape with the ground-thrashing motion of full-time 4WD.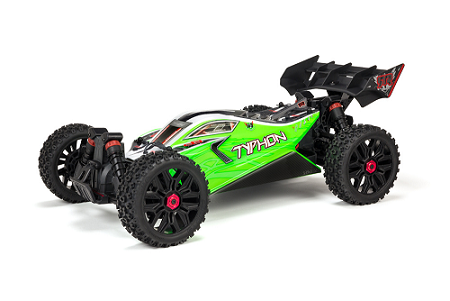 Styled to turn heads, from the local bashing spot to the club racetrack, the TYPHON 4X4 MEGA looks serious, straight from the box.
Of course, it is very cool when it runs.
Built to soak up the most intense all-weather thrills and spills, the TYPHON 4X4 MEGA is pumped full of high-quality ARRMA design features, meaning you can conquer anything in your path, and enjoy head-turning Speed Buggy looks.
Standing out from the crowd is easy when you pilot the TYPHON 4X4 MEGA. A detailed pre-painted body shell provides protection against the elements. Universal-joint telescopic driveshafts, and durable composite suspension arms and hubs make your journey into wild locations even easier.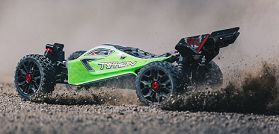 Designed to be FAST. With the included 550 size motor the TYPHON 4×4 MEGA Speed Buggy is primed to blast across any terrain. Ready-to-Run and ready for action, the MEGA powered TYPHON 4×4 provides adrenaline pumping RC action, no matter what the conditions.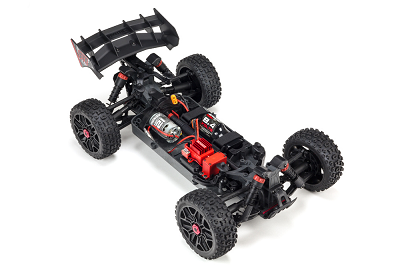 Designed to be TOUGH. Featuring precision aluminum, tough steel and composite materials, all combined in an easy-to-maintain vehicle design that is built for action, straight from the box.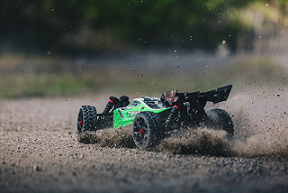 With track-inspired handling and tough, bashing build quality, your TYPHON 4X4 MEGA Speed Buggy will put you in control of exhilarating RC driving action, straight from the box. Rip-up your local dirt bowl, blast across the mall parking lot or launch huge jumps at the skate park. The TYPHON 4X4 MEGA can do it all.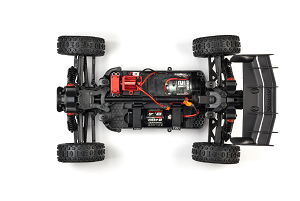 A sculpted rear wing provides high downforce at speed, keeping you grounded.
High-strength hook-and-loop straps are used to keep your batteries in place.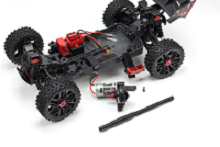 Easy-access Power Module assembly can be removed from the vehicle in seconds, with the removal of just one single screw. The center shaft assembly is telescopic to assist with the easy disassembly and is sprung loaded to ensure it stays in position in use.
With the Power Module removed from the vehicle you can easily service your motor, single-pad slipper clutch, spur and pinion gears.
The 4X4 MEGA power system features a high-torque 550 sized 12 turn brushed motor.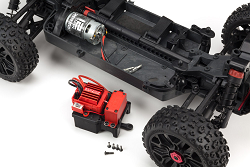 Easy-access Electronics Module assembly can be removed from the vehicle with the removal of only 5 screws. With this module removed you can access the servo, electronic speed control and the receiver.
The two-piece molding comprises of a lower box and upper lid that are sealed with high-quality rubber seals. The ESC and steering servo are attached to this molding, whilst the receiver sits inside the waterproof box.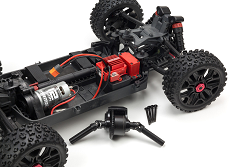 Both the front and rear diff modules are super-easy to access in the TYPHON 4×4 MEGA, ensuring that you spend more time bashing and less time in the workshop.
These differentials are TOUGH. The main differential gears have been super-sized with large pitch gears that have been designed to withstand huge torques, allowing lightweight composite material to be used for reduced rotating mass without compromising strength. The differential internals feature full-metal straight-cut gears, ensuring trouble-free operation.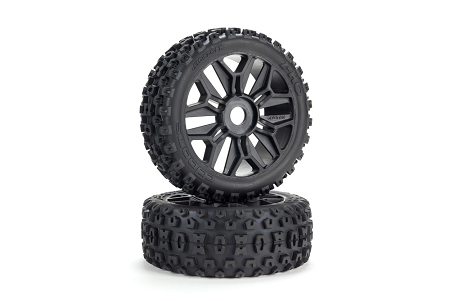 High quality dBoots 2-HO tires, coupled with black multi-spoke wheels, offer high bite on a multitude of surfaces. The multi-spoke wheels feature standard 1/8th scale buggy dimensions with 17mm hex size.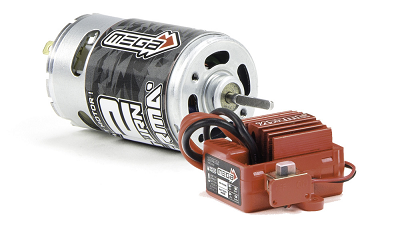 The 4X4 MEGA 550 power system features a high-torque 550 sized brushed motor and a high-quality ARRMA MEGA ESC unit.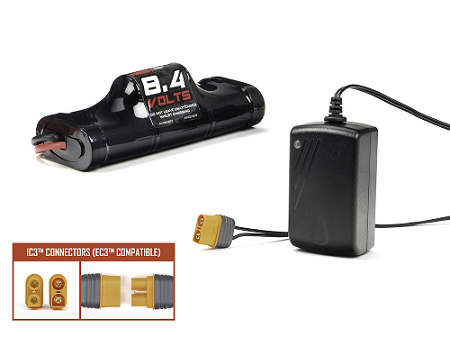 Included in the box is a high-quality 2400mAh 8.4V 7-cell NiMH battery and wall charger.
IC3 battery connectors provide a reliable link between the battery and MEGA ESC.
It is also compatible with EC3 connector and according to the spec, it supports 2 cell LiPo battery, here we recommend Ovonic 7.4v 5200mah with EC3 plug for you.
According to Arrma, if it use a 2S LIPO, the speed can reach 30+ mph.
The ADS-5 Steering Servo will provide fast and consistent steering response on the most demanding surfaces. This servo provides 5kg.cm (70oz.in) of torque.
A waterproof servo case will keep your ARRMA vehicle handling correctly, even when the action gets wet.
With 5kg (70oz) of torque at 6v, this ADS-5 Steering Servo can reach full operating angle in just 0.12 seconds.
The Spektrum STX2 radio system offers fast and consistent control for your ARRMA vehicle. Using 2.4Ghz technology, your ARRMA vehicle is controlled by a wheel and trigger style radio transmitter.
Ideal for new RC users and experienced bashing fans alike. Adjustable steering and throttle trim will allow you to easily tune your control experience to suit your individual needs.
A high-quality 2.4Ghz radio transmitter and receiver, wheels and high-performance dBoots tires, waterproof ESC and steering servo and a pre-painted bodyshell are all included, as standard.
Please check the vehicle specifications for exact details of what is included in the box and what is required to get your ARRMA vehicle running.
Fully waterproof ESC, steering servo and radio receiver box are standard. This means that hitting the roughest terrains, in the most extreme conditions, will be no problem. Rain, mud, snow, dirt and anything else you want to bash your way through.
ARRMA waterproof electronics are ready for action.
* For details on waterproof standards, please refer to the product instruction manuals
ARRMA will support your investment for two years. With our impressive limited warranty helping to keep you running for longer.
Notes from our tech department:
Chassis: Molded composite
Drive: Four wheel shaft drive, telescopic driveshafts in front, rear
and centerline transmit drive from slipper clutch to each wheel
Differentials: Gear type
Motor: ARRMA 550 size 12 turn brushed
Radio: Spektrum STX2 2-channel with SRX200 2-channel waterproof
receiver, 3-position throttle limiter, steering and throttle rate
and trim adjustments with throttle and steering reversing
Steering Servo: ADS-5, waterproof case, 70oz/in (5kg-cm) of torque,
25T spline
Radio Box: Waterproof, easily removed for servicing
Electronic Speed Control: ARRMA MEGA, compatible with 550 size motors
down to 12 turns, handles 5-9 cell NiMH, or 2S LiPo (7.4V) LiPo
batteries, IC3 battery connector
Battery: 2400mAh 8.4V 7-cell NiMH w/IC3 connector
Battery Charger: ADC-N7 7-cell wall charger
Suspension: Race-proven roll bars, front and rear, tunable
turnbuckles, pivot ball front suspension
Differentials: Three gear type
Tires: dBoots 2HO
Wheels: Multi-spoke, black in color, diameter: 3.27″ (83mm),
width: 1.6″ (41mm), hex size: 17mm
Steering: Adjustable servo saver, aluminum servo horns for fast
responsive steering, aluminum top plate
Shocks: 16mm plastic body, oil-filled
Shock Towers: 0.20″ (5mm) thick aluminum. black anodized in color
Body: Trimmed and painted with green color scheme, black nylon rear
wing
Camber: Adjustable rear only, camber refers to the angle of the
tops of the tires from vertical when viewed from front or behind
vehicle
Caster: Adjustable, caster/toe-in refers to the angle of the front
suspension when viewed from the side of the car in relation to
the chassis
Warranty: Two year limited beginning at date of purchase
INCLUDES RTR ARRMA TYPHON 4×4 MEGA 550 1/8 scale 4WD Buggy
MEGA ESC
MEGA 12T 550 Brushed Motor
Spektrum 2.4GHZ STX2 Transmitter w/SRX200 Receiver
2400mAh 8.4 7-cell NiMH Battery w/IC3 Connector (EC3 Compatible)
Wall Charger
Painted Body, Instruction Manual
AA Batteries: Four for transmitter
Track equipment
Vehicle-
Length: 20.12″ (511mm)
Front and Rear Width: 12.05″ (306mm)
Height: 7.68″ (195mm)
Wheelbase: 12.91″ (328mm)
Ride Height: 1.65″ (42mm)
Ground Clearance: 1.0 in (25mm)
Weight: 6lbs 01oz (2.73kg)
Internal Gear Ratio: 2.88
Standard Final Gear Ratio: 18.72
Final Gear Ratio Range: 6.25 – 10.83
Pinion and Spur Gear Pitch: 48P
Spur Gear: 91T plastic
Pinion Gear: 14T metal
Torque Split: 50/50
Maximum Battery Dimensions: 6.5 x 1.8 x 0.94″ (165 x 51 x 48mm)
Silicone Shock Oil Viscosity: 500cSt
Silicone Diff Oil Viscosity: 10,000cSt
Body-
Length: 12.64″ (321mm)
Width: 6.5″ (165mm)
Height: 3.94″ (100mm)
For replacement ball bearings use:
Qty. Size Location Qty. Stock numbers for ball
2 6x12mm Front Hubs 1 bearings are located in the
2 12x18mm Front Hubs 1 Optional Accessory section
2 10x15mm Input Gear 1
2 12x18mm Diff 1
2 6x12mm Rear Hubs 1
2 12x18mm Rear Hubs 1
3 10x15mm Gearbox 2
Size of steering bearings not specified by manufacturer
Video from ARRMARC: