In the past 2021, the best lipo battery has been a hot topic and is often discussed by RC enthusiasts. Are you still struggling with which battery to buy? Then you've come to the right place.
In order to draw a more objective conclusion, I researched the sales, word of mouth, and other reliable data of multiple battery brands on the market. Before you read the following, I give the results of my research, the top 5 battery brands in 2022:
Gens ace
Ovonic
Zeee
Sunpadow
Spektrum Smart
I'll detail these brands below and explain why I voted for them. Analyze the advantages and disadvantages of these batteries, and finally recommend the most suitable lithium battery brand for you.
Top 5 lipo batteries brands
1. Gens ace
Reason for voting: Over 20 years of experience in lipo battery manufacturing and numerous world-class championship titles. With industry-leading lithium battery technology, it has won a large number of RC followers around the world.
Pros:
A good reputation
Excellent quality
A great variety of battery products
About Gens ace
Gens ace is a famous lipo battery manufacturer, established in 1998, and has become a leader in the RC industry so far. They not only provide lipo batteries, but also other related accessories, such as chargers, lipo storage bags, checkers, and more. The good reputation and Champion honors accumulated over the years are worthy of the players' trust. Here is a video introducing Gens ace:
For different application fields, Gens ace has launched several series of batteries. There are mainly the following series:
| | | | |
| --- | --- | --- | --- |
| Application field | RC cars | FPV quadcopters | UAV/multicopter |
| Series(Sub-brand) | Redline, Adventure, Bashing | R-line, Funfly | Tattu |
Besides these, Gens ace also has high-quality lipo batteries for RC planes, boats, airsoft, and other products.
Gens ace Batteries for RC cars
Redline series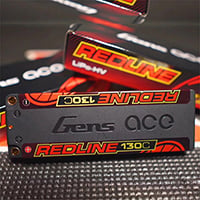 One of the best lipo batteries for racers.
Designed for racing cars. Compatible: 1:8 & 1:10 RC racing cars, like Drift, buggy, on-load,  buggy, etc.
There are two versions: the normal version(3.7V) and the HV version(3.8V).
130C C-rate provides extremely high current output. This means the car has higher acceleration and is more responsive when decelerating and accelerating. Gives you an advantage in the competition.
Adventure&Bashing series
In addition to the competition-level Redline range, they also have batteries for other models.
Adventure is designed for crawlers, trucks, etc. Compatible with 1:8 & 1:10 RC cars.
Bashing is designed for RC car beginners, compatible with 1:5, 1:7, and 1:10 RC cars.
Gens ace batteries for FPV quadcopters
R-line series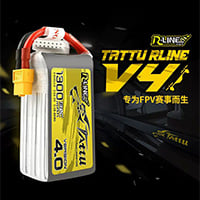 The lipo battery with the best discharge performance for FPV racing. 
The latest version is R-line 4.0, which was launched last year. The real C-rate of the 130C makes your brushless motor scream.
Compared with other ordinary batteries, the high-energy-density cell material means smaller internal resistance, smaller weight, and smaller size. R-line 1300mAh 130C 6S is the best battery for a 5-inch racing quadcopter. It has won the championship titles of world-class FPV competitions such as DR1 and DCL. If you are looking for a battery with excellent discharge performance for FPV racing, it will not disappoint you.
So far, there are four versions of the R-line series: 1.0, 2.0, 3.0, and 4.0. It is worth looking forward to that Gensace will launch the latest version in 2022, R-line 5.0, with a higher C-rate and better discharge performance, let us wait and see.
Funfly series
Designed for practice or freestyle. Great for FPV beginners. Considering the price, it's not my first choice. But if you don't want to take the risk, I think the reliable Funfly is also a good option for you.
Gens ace batteries for UAV/multicopter
In the field of drone batteries, Tattu batteries have become the industry leader.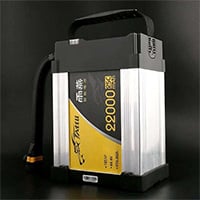 Compared with ordinary batteries, Tattu smart batteries have more practical functions.
High integration, easy to use and maintain, and higher safety.
Status display lights provide real-time battery status information. Such as battery level, low voltage warning, overheating warning, and more.
Automatic repair function. Through voltage balancing, the voltage of the cells is automatically made the same.
---
2. Ovonic
Reason for voting: good reputation and sales.
Pros:
Cost-effective
Good after-sales service
Good reputation
As we know, the reputation of a brand guarantees the quality of the product to a great extent. On social media such as Facebook, Reddit, and youtube, Ovonic battery has won unanimous praise for its excellent performance and reasonable price.
About Ovonic
Ovonic is a company with advanced technology, specializing in the production of lipo batteries and related accessories for RC hobby. They are used in FPV quadcopters, RC planes, RC cars, airsoft, and many more. Free shipping worldwide, including the USA, UK, Australia, Germany, India, etc.
To bring more fun to RC players, Ovonic offers affordable high-quality lithium batteries. They're always balanced, have an amazing impact, and are durable as long as they're not abused.
Videos from professional reviewers:
Ovonic batteries for Arrma&Traxxas
Best lipo battery replacement for RC Arrma and Traxxas.
When you want to own an Arrma or Traxxas RC car, they recommend their own brand of batteries and chargers, which are more expensive than anything else on the market. So RC enthusiasts who are familiar with these are often willing to choose lower-cost replacement batteries.
Ovonic offers cost-effective battery replacements for every Arrma and Traxxas car, like Big rock, slash 4×4 2wd, etc. They come with EC or Trx connectors, you don't need to solder additional plugs. Not to be missed if you are looking for a budget lipo battery brand.
Ovonic Rebel series lipo batterie for Arrma
Ovonic batteries for FPV quadcopters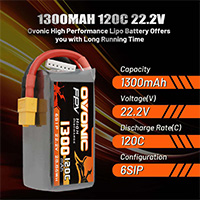 Best battery for FPV freestyle, Cinewhoop, and long-range.
For the mainstream FPV drones on the market, Ovonic has launched the latest series of 120C batteries for racing and freestyle. Among them, the Ovonic 120C 1300mah 6s is a battery that many pilots like and is very suitable for 5-inch quads. Considering the reasonable price, The Ovonic is my top pick. Note I'm not talking about racing here, but freestyle, Cinewhoop, and long-range. If you're looking for a battery for practice or leisure, I'm sure the budget Ovonic will impress you.
---
3. ZEEE
Reason for voting: The best-selling brand of RC lipo batteries on Amazon.
The picture below is Amazon's real-time ranking, Zeee battery ranks first in the RC field. While this is not a statistic for all platforms, rankings on Amazon objectively demonstrate the brand's recognition.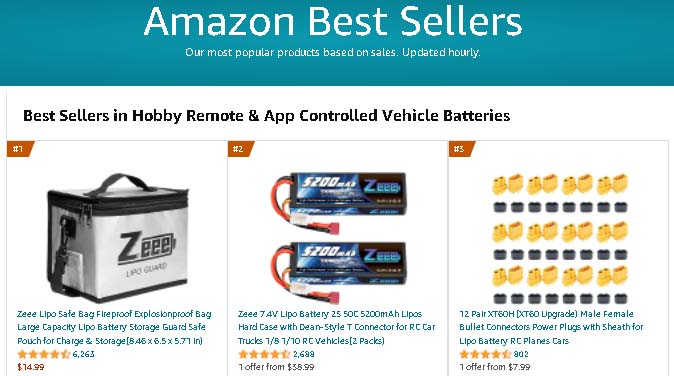 Zeee has two main Pros:
Cheapest
friendly customer service
Cons:
"Defective" packaging
Not strong enough
Unstable
It is the best lipo battery for the money.
When it comes to budget, Zeee can't be beaten by other battery brands. This is also the main reason why many RC enthusiasts end up choosing them, they tend to spend most of their budget on RC cars.
About ZEEE
Zeee is a professional Chinese lithium battery manufacturer established in 2016. So far, with reasonable prices and good quality, Zeee has become a strong competitor among lipo battery brands.
Zeee mainly produces lipo batteries for RC cars, RC helicopters, and FPV quadcopters. The most popular batteries are RC cars hard case batteries, such as 2s 5000mah 50C and 3s 5200mah 80C, suitable for 1/8 and 1/10, feature: running time Long and durable. Please check the battery size and connector for compatibility with your vehicle or device before purchasing.
Video of this ZEEE battery review by Elveshelves:
Due to the low cost, the quality of Zeee batteries cannot be sufficiently reliable and stable. The cable outlet on the package is not sealed, causing sand or mud to enter the battery during the RC car's run. In addition, the hard shell is not strong, which is often complained about by customers. But overall, considering the price, it's the best spare RC car battery for leisure and practice.
Also, they have great customer service and are happy to solve after-sales issues. If there is a quality problem with the Zeee battery you purchased, please contact the friendly them.
---
4. Sunpadow
Reason for voting: Has won numerous world-class racing championship honors.
One of the best race lithium batteries on the track.
In recent years in the 1/10 Touring Car, Off-Road, Modified Touring Car, 1/8 Grand Touring, and other world championships, Sunpadow has become one of the preferred brands of many participating racers. Famous racers such as Bruno Coelho and Alexander Hagberg are part of the Sunpadow team.
Pros:
Well made
Excellent performance
Shortcoming:
About Sunpadow
Here's a video of Sunpadow's introduction:
Sunpadow company was established in the 1980s, focusing on the production of high-end lithium batteries for RC racing. For the competition, Sunpadow has launched different grades of battery series.
Gold series
This series is speed type, which means excellent performance for drag racing, you can beat any opponent with amazing impact and stable current output. Compared with other series, the Gold series has the advantages of ultra-thin and low center of gravity.
Black series
This series is power type, designed for On-Road, Off-Road, 1/10 Touring Car, and buggy.
In addition to these two series, Sunpadow also launched
The regular version of high-quality batteries for leisure or practice, series include Blue, Fun car, RTR, Platin, and ERC. They provide enough boost that you don't have to worry about losing power. These fit most RC cars as long as the voltage, size, and plug match.
Although the Sunpadow is more expensive, the power is one of the reasons why you choose it, and you don't have to worry about its quality. If you're planning to race RC cars, then it's for you.
---
5. Spektrum Smart
Reason for voting: Convenient and safe smart charging.
Pros:
Cons:
High cost
Not compatible with other chargers
Here's a video introducing Spektrum's newest smart battery G2 series:
About Spektrum
Spektrum is a brand under Horizon Hobby, established in 2004. It is committed to RC smart technology, providing batteries and related accessories.
Unlike most lipo batteries on the market, Spektrum G2 batteries have only one connecting wire with an IC plug, which is equivalent to merging the wires and balancing leads together.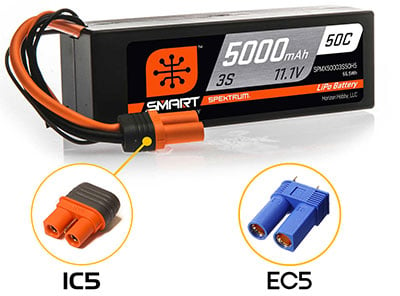 From the outside, the IC plug is almost the same as the EC plug, but it has an extra metal data pin. It automatically identifies various parameters of the battery, such as voltage, number of cells, and the number of cycles it has been cycled.
Compared to other batteries, Spektrum smart batteries come with unique features:
Automatic charging function. When you connect it to the G2 Smart Charger, it starts charging immediately, without requiring you to set a preference. While charging, it monitors and displays the temperature of the battery. Very convenient and safe, make your life easy.
Autosave function. When you do not use the battery for two days, the charger will automatically discharge each cell to the storage voltage (3.9V) to avoid battery aging or swelling.
Using Spektrum batteries and chargers together is very convenient and safe to make your life easier. It is the best lipo battery for a newbie who just stepped into the lipo battery world.
Spektrum batteries are more expensive than other batteries, are not compatible with other chargers and checkers, and must be used with Spektrum chargers. So my suggestion is that if you are new to RC, Spektrum products are great. Also, when you are familiar with the lipo battery and know how to use and maintain it, then charging is a breeze for you, and you can choose a more budget replacement battery such as the Ovonic.
---
Buying Guide for Lipo Batteries
Apart from the above 5 brands, there are some good lipo batteries that are not mentioned. Such as DOGCOM, CNHL, SMC, Thunder power, HRB, etc. Below I will recommend the most suitable battery for you according to different application fields.
Field
Specific type
Lipo battery brand
FPV quadcopters
Racing

Gens ace(R-line)
Ovonic
DOGCOM

Freestyle, Cinewhoop, Long-rang

Ovonic
CNHL

RC cars
Racing

Gens ace(Redline)
Sunpadow(Gold)

Traxxas, Arrma, Axial, etc

Ovonic

RC airplane
Fix-wing, Helicopters, etc

Ovonic
Zeee
HRB

UAV/Multicopter
Hexacopter, Octocopter, etc

Gens ace(Tattu)
Factors you need to consider before buying
Budget
If you have the budget, choose the best-performing battery. They have good after-sales service, you no longer need to worry about the quality of the battery and have a better product experience.
But generally, we spend a lot on RC planes or cars, so looking for affordable lithium batteries is the best fit.
Avoid cheap lipo batteries. They often come with safety hazards, and it is not uncommon for batteries to catch fire.
Availability
Before buying a battery, you need to check whether the battery matches the car, such as size, voltage, plug, etc.
Higher voltage means more power output and more cells. Please check whether the voltage of the motor and the battery match. Excessive voltage can cause the motor to burn out.
The weight of the battery affects the performance of the RC car&plane. Avoid heavy battery and an unbalanced center of gravity.
The hard case protects the cells from being damaged, so hard case batteries are more durable and generally only suitable for RC cars. Soft case batteries are lighter, more compact, and suitable for any electronic device.
---
The above is all about the best lipo battery brands and buying guides, if you have suggestions or questions, please leave a comment below.