The RC car distinguishes the size according to the size of different scales. RC cars of different scales are constructed very differently, which also determines the terrain and how they are driven. So what's the difference between a 1/18 scale car and a 1/24 scale car? Aside from size, there is a big difference in detail. The content below will compare them in detail to help you make an informed choice.
1/18 vs 1/24 Scale RC Car: Basic Parameters
| | | |
| --- | --- | --- |
| Vehicle | 1/18 | 1/24 |
| Inches | 0.67″ | 0.5″ |
| Millimeters | 16.93mm | 12.70mm |
| Weight | Heavier | Lighter |
| Top Speed | Higher | Lower |
| Cost | Higher | Lower |
Dimensions and Weight
Under the conditions of the same model, the larger the ratio, the smaller the size of the RC car.
1/18 is bigger than a 1/24 car. Correspondingly, larger-sized vehicles have thicker and heavier components.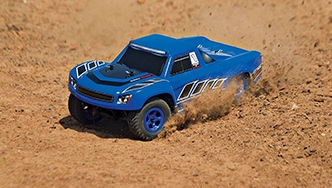 Driving performance
The 1/18 scale car is very common in the market and has a wider range of applications. They can drive anytime, anywhere, indoors or outdoors. In addition, 1/18 of the car can achieve high-performance driving, such as trucks, On-road, and so on.
Compared with 1/24, 1/18 cars can use higher-end metal parts, which are more durable and more powerful. There are two categories of 1/18 Scale cars on the market, brushed and brushless. Cars with brushless systems (Motor and ESC) are faster and have more traction. 1/18 high-speed remote control with high C-rate 2-3s lipo battery, its maximum speed can reach 60+ mph.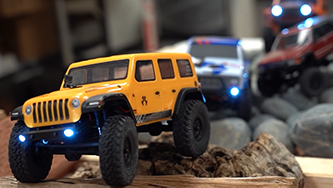 1/24 is the best scale car for driving around the house and yard. They are very fun to drive on mild terrain. Due to the relatively simple construction, the low-cost 1/24 scale car is also an option for beginners entering the RC hobby. Looking for a gift for your child? These mini RC cars will be fun toys for kids.
Which is Better?
As mentioned above, it all depends on your preference. They are both great options for beginners who are new to the RC world.
When it comes to driving performance, the 1/18 scale car is pretty much the winner, and you can enjoy the excitement it brings more speed. Also, it does a good job of getting you up and running with the RC hobby. If you're going to dive into the hobby deeply, a 1/18 scale car would be a good place to start.
However, the 1/24 scale car is a delicate toy in my opinion. It's simpler to build, which means it doesn't have the performance and durability of a 1/18th scale car. Nevertheless, it can also bring us different RC fun.
Best 1/18 Scale RC Car
Best 1/18 Crawler
Best 1/18 Monster Truck
Best 1/18 Rally Car
Best 1/18 Rally Car
Best 1/24 Scale RC Car
Best 1/24 Crawler