Wendy, a friend of mine told me that he was also addicted to remote control cars recently and pleased with bashing or racing with his like-minded friends. "I'm really enjoying the fun and excitement of radio controlled models that will be one of my lifetime hobbies. " Yeah, remote control cars deserve to be some of the lifetime hobbies that can really let you indulge in and relax from the pressure of the whole workday. But as a total newbie,  how to get into the RC cars and how to pick out remote-controlled vehicles that are suited to you? This article will guide you to begin with your first journey and to have a general understanding of the types of RC cars.
Want to know more about RC model car parts? Please check out https://blog.ampow.com/getting-into-rc-cars/
Remote control car sizes
At first, you're supposed to learn more about RC car sizes that are compared with the real, full-size vehicle and then determined to select the size of your vehicle. Generally, novices are easily puzzled by RC scale sizes. The most commonly used scale sizes are 1:6, 1:8, 1:10 and 1:12. Among them, 1:10 is the most popular and suitable scale size for newcomers and highly recommended in that a variety of components can match with this scale in Hobby shop. There are also smaller sizes including 1:28 and 1:64 that belong to toy grade models. The scale sizes are closely related to the speed, the weight and the kinds of components.
So what types of RC vehicles are there on the market?
There are 5 main and prevailing types of RC cars in the RC community that are touring cars, buggies, short course trucks, monster trucks, and RC crawlers.
RC Touring Car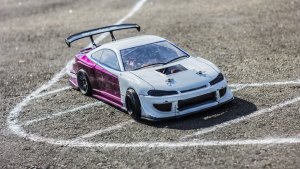 Touring car is a kind of on-road car that is suitable for running in the concrete, asphalt or carpet. In general, the touring car has four wheels and the totally independent suspension that involves a lower arm, upper control arm. It features a lower deck and an upper deck to make the chassis avoid flexing and most hobbyists would like rubber tires (of course, the foam tires can also be chosen if you prefer. ) Normally, the touring car is the scale of 1:10.  The 4WD system is designed for drifting easily without damage to the car. The chassis design is to run on the flat surface and it's proper to accelerate straightforward. But it only can run on the flat surface and is not suited to the off-road terrain such as grass, sand dunes, and gravels.
RC Buggy
Remote control buggy is an all-terrain vehicle that is fit for the rocky environment, muddy stretches, gravel and so on. It's a good choice if you still don't have the preference of the specific types. We can see that the shock absorber of the buggy is long and its tires are narrower than the monster trucks', which indicates the buggy is able to deal with the off-road terrains.
RC Trucks
If you're fond of challenging, then remote controlled trucks would be your optimum selection. There are two main types of RC trucks involving short course trucks, and monster trucks.
RC Short Course Truck: The shock absorbers of short course truck are not as long as buggy and the four wheels are protected by the bumpers and the shell of the car, which is beneficial to the whole frame. The short course truck also can apply to all terrains including the flat road, gravel, and grass, etc. If you like customizing, this kind of machine can meet your need. Besides, the monster trucks are the representation of power just like the strong men who are full of muscles since they are heavy-duty, durable and great punch.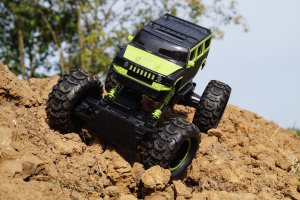 RC Monster Truck: OK, this truck is one of the most popular and common types of radio control cars because of its high power, wild and cool appearance, as well as great punch. So the monster truck requires lipo batteries of high quality, high energy density, and high discharge rate. The 2S 5000mAh can perfectly meet the needs of this kind of vehicle. Besides, its four wheels are much bigger than other types and all outside of the bumpers. The monster truck is the typical off-road car that can run on the grass, dirt, sand dunes, and puddles. You can play everywhere or just in your backyard. Stand backflip?  Dirt jumping? No problem. Monster truck completely handles all these awesome tricks.
RC Crawler
As it'name implies, radio controlled crawler is a kind of off-road vehicle that is suitable for climbing the uneven surface, especially the gravel and the "mountain". With the low speed, RC crawler is adept at challenging all kinds of rugged terrain.
To sum up,  being into radio control models is a process to learn more about the fun and knowledge of remote control. It's very interesting and challenging. Only when you spend more time and energy in learning and practicing your RC vehicle, can you be stronger and get more pleasure in this territory.