Since people in many places have to stay at home recently,  now it is a good time to DIY their own models at home.
Hobby come, boredom go away.
To support hobbyists playing models at home and don't worry about power, Ampow will have a big discount on Ovonic batteries.
Event: Stuck at home sale
Event time: Start on April 20
Warehouse: USA & EU

In addition, Ampow USA has a 5-day flash sale, and there are 4 products per day for flash sales at surprising prices. From $ 7.99 on
Event: 5-day flash sale
Flash sale time: April 20 – 24
Warehouse: USA

Part of the inventory of Flash sale products is limited. If the lipo out of stock, no new products will arrive in a short time, so don't miss it!
If you notice your favorite battery, please pay attention to the start time and make a purchase on that day.
Now you can look at the products on the first day of flash sale:
This is a popular FPV battery. The discharge rate of up to 100C gives you more punch. The 5s battery represents a voltage of 18.5v.
– Size: 72mm * 35mm * 37mm(L*W*H)
– Net Weight: 188.9g
Because it has a relatively small weight and volume, it is mainly used on small aircraft models, which can be used in a wide range. RC Ocean Rescue heli, small soaring aircraft, small indoors plane models, small Piper parkflyer, TX & RX like OrangeRX t-Six radio, boat like 30cm jet-ski boat, etc.
– Size: 55 * 30 * 18mm(L*W*H)
– Net Weight: 90g (45g for one pack)
5000mah 2S 50chardcase with Tplug& 7600mah 3S 50c hardcase with XT60 plug
These two batteries are suitable for RC car, both are hardcase, but have different voltages, 2s and 3s, respectively represent the voltage of 7.4v and 11.1v.
5000mah 2S 50c with T plug is suitable for 1/10 RC short course, monster truck, crawler, and 2packs for 1/8 scale Truggy.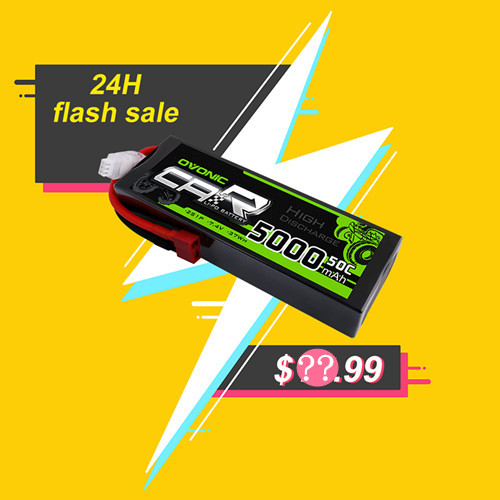 – Size: 137x45x24mm(L*W*H)
– Net Weight: 297g
7600mah 3S 50c with XT60 plug is suitable for most of 1/10 monster truck, crawler etc.
– Size: 138x46x38mm(L*W*H)
– Net Weight: 456g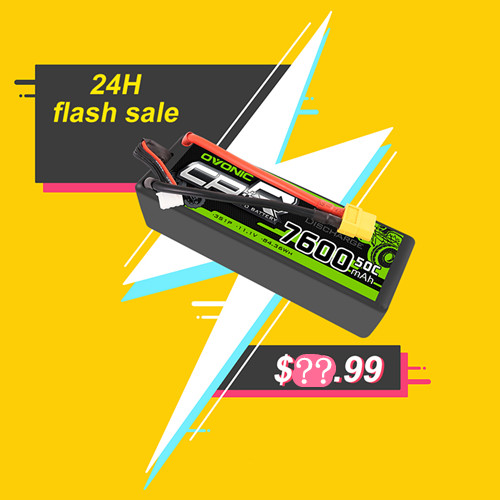 You can pay attention to our store: www.ampow.com and the event banner will be released on April 20.
Besides, if you from AU & RU & MY & SG & KR & IN & UA , you can visit our ovonicshop, we will have a 1st anniversary sale recently.