Vorteks is a brand new off-road truck from Arrma, four-wheel drive, using 3s brushless electronics. It is the fastest vehicle in the 3S BLX lineup, with a claimed top speed of 60 miles per hour. Smart ESC is compatible with 2s and 3S, a default IC5 connector, and a 3660kv motor. Ovonic 2S or 3S lipo batteries are recommended.
Best 3s lipo battery for Arrma VORTEKS 1/10
Ovonic 100C 3S 6000mAh Softcase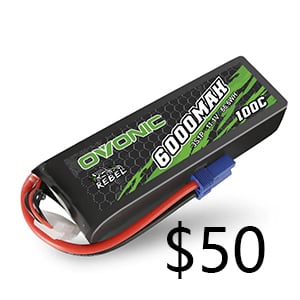 Specification:
Chemistry: Li-Polymer(LiPo)
Volts: 11.1V (3S1P)
Capacity(mAh): 6000mAh
C-Rate: 100C
Dimensions: 132mm×44mm×33mm(LWH)
Net Weight(dev.20g): 412g
Plug Type: EC5
Balance Connector Type: JST-XH
Read more about this item
Compatible with these Arrma:
1/10 VORTEKS 4WD 3S BLX, VORTEKS MEGA, VORTEKS BLS

GRANITE MEGA, 1/10 GRANITE Voltage 2WD
RAIDER MEGA, RAIDER BLS, RAIDER-XL BLX 1/8, FURY MEGA
FURY BLS, FURY BLX 1/10 Scale 2WD
Rebel series is very sturdy and was specially designed by Ovonic for the Arrma cars.
100 C-rate allows you to get a huge impact, drift on the pavement, and tilt your head. Very agile, no longer numb in the mud, and backflips become easier.
After three tests, its top speed was 54mph, 53mah, and 57mph. impressed.
6000mah means more amps and less voltage drop.
EC5 plugs can be directly connected to Vortek's IC5 connectors.
The size of the battery fits the Vorteks perfectly, and the 33mm height of the battery gives the car a lower center of gravity, making it easier to control it.
As most RC enthusiasts know, the higher the C-rate, the higher the acceleration. If you are a beginner, you can choose the Ovonic 2s 50C 5200mah lipo battery.
Best 2s lipo battery for Arrma VORTEKS 1/10
50C 2S 5200mAh 7.4V Hardcase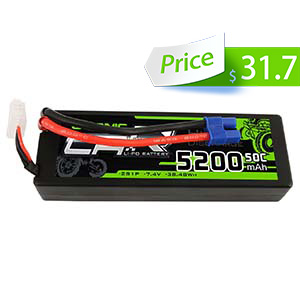 Specification:
Chemistry: Li-Polymer(LiPo)
Volts: 7.4V (2S1P)
Capacity(mAh): 5200mAh
C-Rate: 50C
Dimensions: 139mm×47mm×25mm(LWH)
Net Weight(dev.20g): 261.5g
Plug Type: EC3
Balance Connector Type: JST-XH
Read more about this item
Compatible with these Arrma:
VORTEKS
, GRANITE, GRANITE Voltage, RAIDER
Compatible with other RC cars:
1/10 Traxxas Slash, HPI Strada XB, Team Associated, etc.
Features of Ovonic batteries
Using high-quality electrolyte material. High energy density, low internal resistance, slower voltage drop, and smoother discharge curve.
Ultra-high discharge rate. Delivers a powerful punch and long run time, unleashing the potential of an RC car like the Arrma Vorteks.
A+ grade cells. The battery is more durable and the number of cycles can reach more than 300.
High-end assembly technology. The internal mechanism of the battery is more compact, and the Ovonic battery is smaller and lighter than other batteries.
Trusted brand. The Ovonic has received accolades from countless racers in the community, winning numerous championship accolades.
Precautions
Due to the more active chemistry of Lipo batteries, good maintenance results in longer battery performance and life.
Do not over-discharge. It is recommended that your Arrma Vorteks set the low voltage warning value to 3.3V or 3.5V. This way you don't have to keep an eye on the battery level.
Do not overcharge. It is recommended that you use a reliable smart charger that automatically cuts off the power when fully charged.
long-term storage voltage. Never leave the battery connected to your car when you plan to not use it for a long time.
At the same time, you need to set the voltage of the battery to 3.8V and store it in a non-flammable place, such as a battery safety bag.