Best Lightweight 6S LiPo Batteries for FPV Freestyle
In this review, I listed some popular 6S LiPo batteries for racing drones and mini quads, comparing their performance including capacity, discharge rate, and weight.
So far I have only tested a few, but hopefully, I can add more to the test in the near future. I try to focus on testing 6S batteries under 1300mah because anything bigger is simply too heavy for a 5″ FPV mini quad.
Here are the 6S batteries I've experienced with, and where to get them.
6S LiPo Batteries Option
Tattu R-Line 6S 95C 1300mah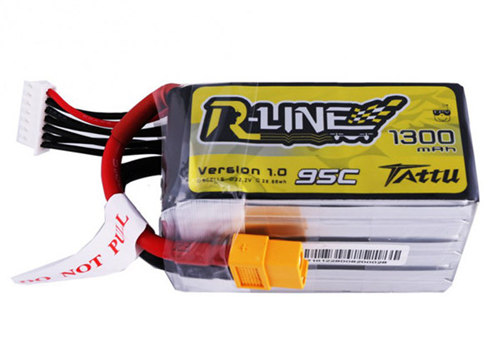 These batteries have similar style of packaging. However these packs have very different performance.
Tattu R-Line is a battery brand for racing drones, their 4S version is probably one of the highest quality batteries I know, so you can expect good performance from their 6S version.
Discharge wires: 12AWG, 8cm
Balance lead: 4cm
Weight:226g
And Tattu R-line released a new 1300 6s 120C, many RC pilots said it with lighter weight great for racing. But I haven't tried it yet.
Gens Ace 6S 45C 1050mAh
The Gens Ace 6S 1050mAh pack is actually designed primarily for RC Helicopters. It's equipped with an EC3 connector, not an XT60, so in order to test this battery I had to manually replace the discharging connector first.
There is so much I like about this battery: weight, dimension, price, and capacity… There are just not enough 6S LiPo batteries on the market in the 1000mAh capacity range. Although the C rating is a bit low, we shall find out how it performs in our test.
Discharge wires: 16AWG, 11cm (wires might be a little too small)
Balance lead: 5cm
Weight: 170g
Another interesting observation: the price, weight, capacity and dimension of the Pulse 6S 75C 1050mAh all sound familiar. Can they be the same battery under the stickers? Too bad I am unable to get a Pulse battery because they are only sold in America, and everywhere I looked is unable to ship to Europe for a reasonable price.
Amax 6S 75C 1150mAh
The Amax 6S 1150mAh LiPo battery is another affordable option for those who want to give 6S setup a try 🙂 They come with very nice packaging, which is totally unnecessary TBH…
Discharge wires: 14AWG, 11cm
Balance lead: 4cm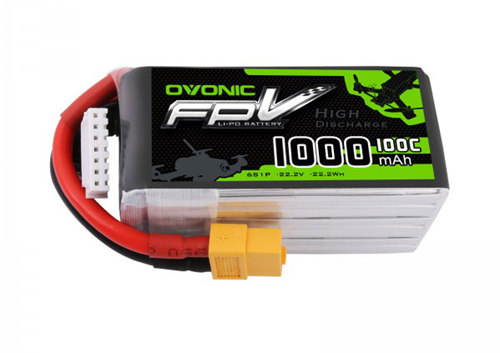 This 6s battery is from a new brand Ovonic, but it's really affordable as price $26 for FPV freestyle, and with lightweight great for flying. Coming with an XT60 plug, and clean balance wire, it's a great green pack for FPV freestyle.
Weight: 171g
Discharge wires: 12AWG, 6.5cm
Balance lead: 4.5cm