The other day I took the Traxxas Maxx out to test a 3s lithium battery, the Ovonic 3s 50C 5000mah, my first time trying Ovonic. Both 3s and 4s batteries can be used in the Maxx, but after testing, I think the 3s will be better. The Ovonic is very popular among RC racers because of its excellent quality and value for money, which brought my attention to the Ovonic.
Overall it's absolutely insane power, with a long run time and a pretty good balance of voltages. Relatively cheap compared to other battery brands with the same performance. I have used maybe a dozen types of battery brands and have reviewed and compared them. So here I am recommending the Ovonic to you bluntly, which is probably more budget-conscious. In addition, it has a wide range of applications and is compatible with crawlers and bashers. Below, I'll evaluate the performance of this battery, including how voltage levels drop and how long it can keep the Maxx vehicle alive.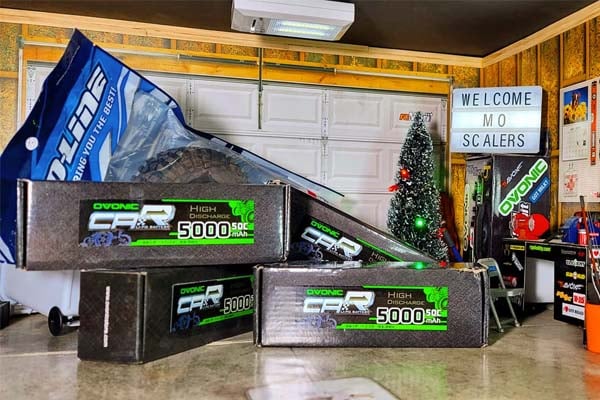 Pack configuration
Cell count: 3s
Capacity: 5000mah
Voltage: 11.1V
Total power: 55.5WH
Continuous/Burst Discharge rate: 50C/100C
Size: 138x42x28mm
Connector Type: XT60 Plug
Balance Connector Type – JST-XHR
Price $35.99
Packaging of the battery: A typical green cardboard box with cotton pads for protection, wrapped in bubble wrap to protect the battery from damage when shipping, and a safety instruction manual. The battery measures 154x42x32mm and weighs only 348g, which is 28g lighter than my HRB 3S 11.1V 5000mAh. Can be put in the Traxxas battery tray like a glove, I mean, it's like they're really designed for a Maxx car.
Amazing impact
It's absolutely amazing, and I have to say, it's a true C rate that exceeded my expectations. When I tested it in the yard, it ran faster than before, which must have a lot to do with the discharge performance of the battery, improving the more powerful impact. Might be better on grass. You need good control to keep it going, and it will run fast. I'll buy another pack as a spare in the future as it fits the car perfectly. With a terrifying power transfer, he runs like a monster on any terrain.
It didn't lose power through tall grass and didn't have issues with some other lower C-rated batteries, on the contrary, this thing did a great job. We ran it in the backyard with backflips, big jumps, lots of water activities, and a few laps around the track, and yet the battery didn't swell and the temperature barely changed. In line with many other budget batteries, we've tested them a few months ago.
What worries me is that the bottom of the Maxx is so thin that it can be easily damaged if touched. The car would fly off the slope if I wanted to. So sometimes too much power can be a bad thing, and that's what I'd say their Maxx handles well, with a scorecard with a 40C punch that protects the vehicle. Ideally, this battery could be integrated into the car and provide it with a lot of power.
When you give it enough throttle, it has a tight turning radius, turns at high speeds, and doesn't get stuck in a lot of places. Speeds hit 55 mph, which I'm very pleased with for a monster truck. It's more sensitive than I'd like to say. The first jump, it was fairly even in the air. Not bad at all. I have a feeling this car will do a good job in a front somersault because if you jump over the kickstand it can easily over-rotate in the front.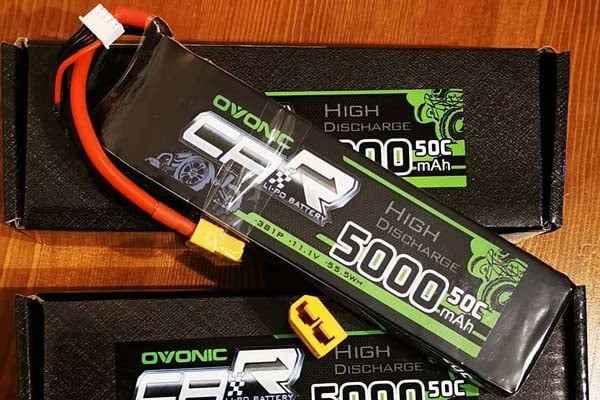 Run time
During the entire test, I was basically on full throttle and went crazy until the voltage was 3.3V, but it brought about 20 minutes. Later, although the voltage warning light came on, it told me that the battery didn't suddenly disappear at the end. To be sure, there is little to no warming, which is not bad. There is absolutely no sign of bad power delivery right now, the capacity is pretty much as advertised, and it feels easier to drive and very efficient to me. Typically a battery of this capacity drops to around 80% of its original power after about 20 minutes of operation, but I still think the planet is still exploding. In addition, the battery has a measured capacity of 4958mah on the discharger, which is the real capacity. This means that Ovonic has good quality control.
Voltage balance
| | | | | | |
| --- | --- | --- | --- | --- | --- |
| Testing | Electricity | Total voltage | Cell voltage | Maximum voltage | Minimum voltage |
| first time | 30% | 11.379V | 3.793V  3.791V  3.795V | 3.791V | 3.795V |
| second time | 99% | 12.632V | 4.206V  4.217V  4.209V | 4.206V | 4.217V |
| third time | 3% | 10.555V | 3.514V  3.519V  3.522V | 3.514V | 3.522V |
It doesn't sag as fast as some low-quality batteries, and so far, it looks really good. Plus, it maintains a good state of charge. After the battery was running, I checked the voltages the cells were almost equal and the voltages were well balanced.
When fully charged again, the vehicle once again got a strong punch and it didn't disappoint me.
Suffice it to say that my results in the next 16 tests are definitely the same. This car is easier to drive at 40C than on the 100C battery I've been running because it's able to stand up, the wheels are more grounded, it's more fun, it's easier to drive or the throttle takes a lot longer, so I guess since I've Got this pack, probably better than my 100C battery.
---
Latest news
Below is the updated content. Ovonic launches a new series of batteries for Traxxas and Arrma, the 80c 4s 6500mah is perfect for the Traxxas X-Maxx.
80c 4s 6500mah Softcase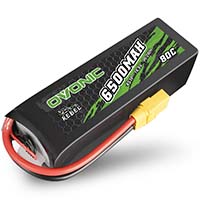 Specs:
Capacity: 6500mah
Voltage: 14.8V / 4s / 4 cells
Continuous/Burst Discharge rate: 80C/160C
Size: 132 x 43.2 x 42mm
Connector Type: XT90 Plug
Balance Connector Type: JST-XH
6500mah power and 80c C-rate. Provides more run time and more impact.
For more information, watch the review video:
Why would I choose Ovonic for Traxxas Maxx?
It's recommended, especially if you don't have a massive battery budget and you want something that lasts longer than a full charge, so I'd say this. It's definitely worth considering, especially at this price point. I would choose it for this car without hesitation.
I know some people don't like Traxxas batteries because of their budget, although they perform well and last two to four years each. I agree with this.
If you're a complete hobby beginner like I got my first Traxxas batteries, I mean, these are actually good for beginners. Because having the entire ID system is worth it. From my experience, you know a few things first, and then once you're more comfortable with batteries, you can take it up a notch and get power with a balanced plug. This is another valid reason why I would never use Traxxas batteries. Traxxas will only use the lipo checker to entice you to get more of their products. Since they don't have balanced plugs, you'll need an adapter and then a charger. These budgets are too high, even though they are high quality.
As we can see, many RC battery brands are disappearing nowadays due to rising material costs and rising lipo battery prices. Picking a budget battery is a trend these days. Personally, the Ovonic meets my needs for battery performance. As long as you take care of your battery and use a good charger, the overall quality of the Ovonic battery is better.