What are the best Shocks for Traxxas Slash 2WD? According to various needs such as cost performance and performance, we have found the 3 most representative shock absorbers on the market. Below, we analyze their features, pros&cons, and provide some helpful reviews.
Best Shocks for Slash 2WD
Big Bore Shocks
Best Value Shocks for Traxxas Slash 2WD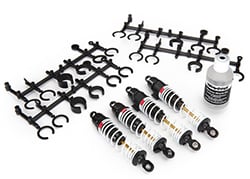 Spec:
Brand: Traxxas
Item model number: TRA5862
Spring type: Progressive rate springs
Body: Hard-anodized aluminum
Shock bores: PTFE-coated
Shafts: titanium nitride-coated
Size: 6.63 x 1.38 x 8.13 inches
Weight: 5.6 ounces
Features:
Budget
High performance
Good jumping effect
Front shocks are a bit stiff
Not only are these shocks easy to set up, but they also come with a bottle of oil. This is a boon for beginners who are new to upgrading parts themselves. The tight metal cover seals better and is more durable than plastic stockers.
The running effect: I was impressed with the bottoming out of the big jumps. If you replace the stock shocks with this one, you'll notice a significant improvement in its ability to bounce back. In addition, stable damping reduces the chance of rolling over during steering.
Front Piggyback Shocks
Best Overall Shocks for Traxxas Slash 2WD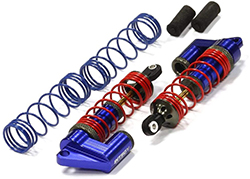 Spec:
Brand: Integy
Auto Part Position: Front
Item model number: T7963BLUE
Material: Aluminum, Carbon Fiber
Size: 3.5 x 2.2 x 0.7 inches
Weight: 2.4 ounces
Features:
Good high-speed running and jumping performance
Easy to install and adjust
Super elastic
Requires extra work to add oil
Amazing elasticity, you don't have to worry about its elasticity during big jumps. If you're a basher, do these and these will give your Slash the processing it needs.
The only complaint I have with this product is that it doesn't include shock oil, which means you'll need the extra expense and work to figure this out. Maybe manually filling the shock oil is a mess for beginners.
Powerstroke Front Shocks
Best performance shocks for Traxxas Slash 2WD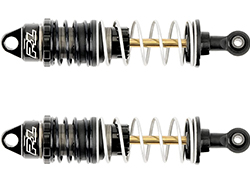 Spec:
Brand: Pro-line Racing
Item model number: PRO606301
Auto Part Position: Front
Style: Racing
Material: Aluminum
Size: 7.4 x 4.8 x 0.8 inches
Weight: 2.4 ounces
Features:
Strong and sturdy
Dampening was excellent
Improved handling
Expensive
The springs of Shocks can be adjusted using threads, which is very convenient, and you can quickly adjust the spring force according to different terrains.
These shocks provide the awesome performance of the Slash 2WD, including handling, jumping, and cornering.
Also, one thing you need to keep in mind is that they are not filled with oil. If you feel the damping is not enough, you need to add some more oil. (Tips: 55-60wt are these common.)
Buying Guide for Slash 2WD Shocks
Aluminum shocks are more durable and resist flexing during big jumps, but they tend to be more expensive than plastic shocks.
Linear springs work better on low-traction terrain. Conversely, progressive springs are better suited for high-traction terrain.
The springs of RC Shocks are usually adjusted in two ways, spacers, and threads. Thread adjustment is easier, adjust anytime, anywhere.
Please choose springs according to the weight of the car, they can range from soft to hard. Large-bore springs can handle more weight. If large-bore springs are used in RC cars that are not heavy, it is often counterproductive.