Many people have cordless electric drills at home, and 12V and 18V electric drills are commonly used and have a wide range of applications. Some people usually only use it to drill wood or the like, but sometimes they need to drill holes in the concrete.
At this time, we will be doubts, Can we use our cordless drill to drill concrete?
In fact, it is not completely impossible. Although the cordless drill is not effective in concrete drilling, it can get the job done. The battery power of the rig and other drilling functions will effectively drill into the concrete. But please remember that 12V cordless drill is basically impossible.
The reason why 12v electric drill can not make holes in concrete
The 12v electric drill without impact function is only suitable for flat drilling of thin metals such as wood and hinges. Don't consider this kind of low-power electric hand drill without impact function for drilling holes on the wall. It is better not to buy. Or you can consider a small impact drill with 12v impact function.
The 12v small percussion drill is a kind of functional household electric drill. It is an artifact for home work. It is used to screw down the furniture and drill holes in the brick wall. Everything is available.
However, this small percussion drill still does not work when it encounters hard wall. Small percussion drills are good at perforating brick walls and are only suitable for drilling holes in red brick walls, hollow brick walls, and concrete-reinforced-reinforced brick walls. The efficiency of drilling holes on walls with high concrete steel content is quite low. Encountering a pure concrete wall like the ceiling at home, it seems to be scraping.
The reason is simple: insufficient motivation
It is easy to understand that the 12v electric drill is use the 12V NiMH batteries or lithium batteries, which has a maximum torque of 30 N. This is determined by voltage. Low-voltage tools are destined to have lower power.
And if we use an ordinary 18V electric drill, some people have tried it. It can only drill 3 holes in half an hour, and it takes a lot of effort. In the same concrete, the impact drill can be done in 2 minutes.
Therefore, we have to have a simple understanding of the different types of cordless drills on the market before we choose the right one.
There are four common drill: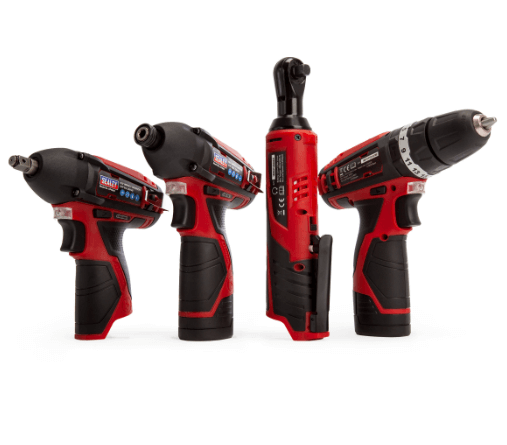 *Drill/Driver: Primarily used when drilling a hole or driving in a screw into materials such as wood, metal, and plastic.
*Impact Drivers: This drill has a particular application as it is used only to drive screws or loosen bolts.
*Hammer Drill: Similar features as the drill listed above, but they will also have a hammer setting that allows them to drill into harder materials like concrete and brick. The drill does this via a Hammering motion that rocks the drill bit in and out of the hole, similar action to a jackhammer.
*Rotary Hammers: Professional-grade or a heavy-duty version of a hammer drill.
If you have Hammer Drill, this is the first choice when drilling into concrete.
Considering that it is not often necessary to drill concrete daily, the best choice is to buy an 18v/20v multifunctional electric drill.