When it comes to radio control or UAV, what comes to our mind are male images, not female. It seems that the world of R/C and UAV are the male territories. A veteran who races in the North East of the USA told me that he has only seen one woman racing in the last year. I've been confused and wondering why there are so few female members and why women don't like radio control models?
Many females don't really have a good understanding of radio control in general.
It's noticeable that women don't really comprehend the RC stuff and have misconceptions about it.  Female always think that radio control model is a kind of toy and "only geeks and dorks and kids play with RC stuff". They would usually make fun of the guys who get into RC truck and regard them as an immature growup. Because of these, women don't want their husband to play with "toy truck". Actually, when I purchased my monster truck last month, my girlfriend was unsatisfied and couldn't understand my enthusiasm for radio controlled vehicles. However, she fell in love with RC hobby after I told her how to install and run it as well as show her off-road running in the ground. She was captivated by its great punch and awesome drift tricks and now let me assist in training regularly.
Therefore, women have misunderstood the radio control stuff, and really don't realize the charming and pleasure of R/C. They'd change their mind and be fond of it as long as they learn more about R/C and find out what it really works.
Yeah, it is undeniable that a few women are just as good at machinery as men, but as for many of ordinary female, they aren't very adept at and interested in mechanical knowledge.
Generally, radio control belongs to mechanically-inclined hobbies involving most technical jobs, such as mechanics, construction, and electricians, etc. It's what most men really good at, but girls feel stressful to do it. This perhaps can derive from childhood where people think girls ought to cultivate some quite hobbyists such as playing the piano, playing with dolls, or cosplaying adult life, etc. On the contrary, boys would be encouraged to take part in some passionate activities including playing with trucks and cars. This kind of stereotype would limit the development of female in the mechanical aspect. In fact, babies are not prone to something and just like a blank sheet of paper and it's adults who teach them what they are supposed to do as a female or male.
Hence, as for female, it's not easy for them to grasp so many skills and knowledge with electronic things. If you ask a female hobbyist what kind of RC airplane lipo batteries fit her RC aircraft, she may have no clear idea. This kind of mechanical knowledge really puzzles them. For example, when my girlfriend bought a new radio model vehicle, she didn't know the various components and was puzzled by what the motor and electric speed control are and what their effects are. Even after reading the illustrated instructions and search the relevant information from Google, she still had the bewilderment of how to install them correctly out of the box. At this moment, they'd be likely to consider this hobby is not suitable for them and then give up.
Mostly, women are far away from the messy and dirty environment.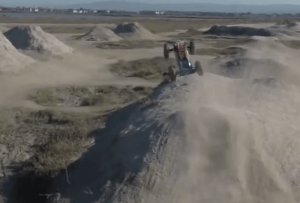 Emmm, sometimes we'd say radio control is full of family atmosphere and people here are very amiable and obliging. However, it's not always so perfect. When people are passionate about the running or racing condition, they couldn't help but shout and cheer at the time as well as speak bad language sometimes mixing with the screaming motors.
Besides, dirt, gravel, sand dunes and so on are the perfect place to run our off-road RC vehicles involving short course truck, monster truck, stadium truck, buggy, and rock crawler. When the car makes an amazing drift in the sand dunes, it throws up a cloud of dust. So it might be messy, loud and smelly. Yeah, this may be very normal for men, but most of the women can not accept, especially when they are along with children.
Female is in the minority, and RC spends a lot of time.
Yes, the RC group has been very pleased to welcome female who takes part in. But it's also not doubtful that female is in the minority in RC models. That is to say, the male hobbyists are willing to teach and help female but they don't really trust the expertise of female. Therefore, when someone is beaten by a female racer, he's probably mocked by other guys,  so would easily get mad and humiliating. "Oh, you are defeated by a girl." This common conception that the skills of male hobbyist are always better than a female would restrict the development of female in the world of R/C and let them think male racer is invincible and RC is the men's world. It results in the frustration and upset of female.
In addition, it's essential to practice and run regularly for RC hobbyists to perform well. No need to mention that female member is supposed to take up double time to understand the mechanical things.  Nevertheless, they also need to take care of their family and kids and couldn't have enough time to train themselves.