Have you ever maintain your radio control vehicle regularly? Do you think it important and essential? Do you consider it's complex and difficult? In reality, many RC modelers would think RC vehicle maintenance is not easily operated, which may require a lot of steps and complicated process. If you also think so and neglect your radio controlled machine, you'll need to pay more for your vehicle because the accessories of the car would have worn down easily and demand update. Therefore, it's essential to maintain and clean your radio control models periodically. It can not only help keep the high performance and consistency of the car but also avoid increasing the extra expense. But how to maintain a RC car? The objective of this article is to show you some simple and fundamental maintenance for your RC car. Hope this essay can assist you in having a general understanding of related maintenance.
If you'd like to learn more about RC vehicle, 5 things you are supposed to know before you are in the world of R/C  and 5 Types of RC Cars All you Need to Know would be good options for you.
Step 1. Pick out the suitable RC car for the terrain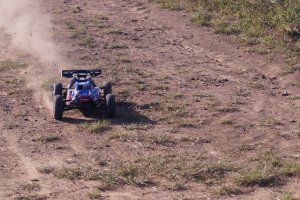 Yeah, the first thing you need to do is to choose the right radio control vehicle for the surface that you're going to run. If you plan to run your RC vehicle at your backyard that is grass, dirt, sand dunes, or puddles, the appropriate vehicles would be the off-road RC cars such as RC buggy, RC short course truck, RC monster truck. Of course, if you'll run on the pavement, on-road and off-road cars are all fit for. However, the RC touring car cannot play on the uneven surface. Otherwise, it would cause great damage to the on-road car.
Step 2. Before running – Check your RC vehicle carefully
When starting to run your RC vehicle, have you got accustomed to inspecting your radio control firstly? Some guys may do it at first, but someone may not. It's necessary to check your car before running and protect from greater damage. To make sure whether the crucial parts or screws are tight enough and if not, these accessories need to be recalibrated. In addition, the RC hobby batteries also need to be inspected carefully. To ensure whether the lipo batteries work well and if there are some safety concerns, the packs need to be replaced immediately.
Step 3. After using – Clean your RC vehicle basically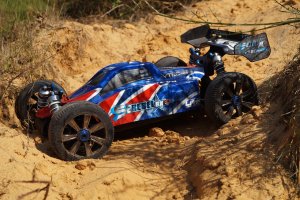 After running or drift from the dirt to the sand dunes, your radio controlled car may full of sand and mud. If the car cannot be cleaned immediately and be stored directly, its lifespan would be shortened and the parts have worn down severely. Therefore, not to be lazy and pay more attention to the RC car maintenance after driving. After running, you ought to turn off the power and take off the batteries ar first. If the battery pack still has a half of power, you're supposed to discharge the lipo and then store in the special fireproof bags. But notice that don't over discharge, which does harm to the battery.
Step 4. Check and clean your tires regularly
Yeah, there are many kinds of different tires that are suited to different types of terrains. Hence, you need to change the tires according to the surface the RC car apply to. It can protect your wheels from unnecessary damage. Besides, cleaning the tires regularly is essential perfectly. To begin with, you can wash the tires by means of the warm water and toothbrush and the dirt would be easily cleaned. Then, you can use the soap to wash and brush again and the remaining dirt would be removed totally. Only when you clean the wheels regularly, can your RC vehicle keep high performance.
Step 5. Clean the motor of your radio control vehicle
Except for the RC tires, the motor is also the crucial part that you need to clean with proper care. Just like the tires, there is much dirt inside the motor. So you can take advantage of the brush and light air pressure to remove the dirt.
In conclusion, cleaning your radio control model regularly is of paramount significance to extend the lifetime of the car and related parts. But how to maintain a RC car? You got it now. 5 steps guide you to maintain and care your car. Hope this article can extend your knowledge of relevant stuff.