Upgrading your Arrma Senton 4×4 is fun, especially if you want to have an RC vehicle with a difference. There are many ways to improve your vehicle's performance, and replacing a more powerful battery is the easiest option. Below I will recommend two high-quality lipo batteries that are reasonably priced and are perfect for the Senton 4×4.
Upgrade method 1: 2s lipo
When you buy the brand new Arrma Senton 4×4, it comes with a 3300 mAh 8.4V 7-cell NiMH battery and it maxes out at 19 mph. If you want faster speed and longer runtime, you can replace the NiMH batteries with lipo batteries. The Senton 4×4's powertrain is compatible with 2s lipo batteries, so you can run them straight out of the box.
2S 5200mAh 50C Hardcase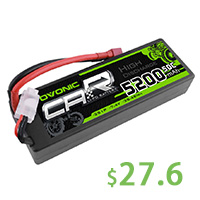 Specification:
Chemistry: LiPo
Volts: 7.4v / 2s / 2 cells
Capacity(mAh): 5200mAh
C-Rate: 50C Constant/100C Burst
Dimensions(mm): 139×46×24mm(L×W×H)
Weight(g): 259g
Plug Type: Deans plug
Balance Connector: JST-XH
This pack of batteries is suitable for almost all 1/8-1/10 RC cars, such as Traxxas, Arrma, Losi, and so on.
Running speed: The discharge rate of 50C provides ample power. As long as you increase the throttle, the motor can draw a considerable amount of current from the battery, and it is no doubt that the instantaneous speed can reach 30+ mph. Similarly, high-rate batteries can improve the response speed of the server and make it more sensitive.
Running time: I run these packs almost every day and the 5200mah capacity will get you 20-30 minutes of running. Of course, the running time depends on how you drive, the road surface, etc.
Since this is a 2s (7.4V) battery, it is very suitable for Senton 4×4's brushed power system, so you don't have to worry about the heat from full-throttle burning out the motor or ESC.
Upgrade method 2: 3s lipo
If you want to run 3s or more to get more speed, you need to upgrade the powertrain and change the pinion first. The following is the high rate series battery designed by Ovonic for the Arrma car, which is one of the best choices for Senton 4×4 to run 3s lipo.
3S 5200mAh 80C Hardcase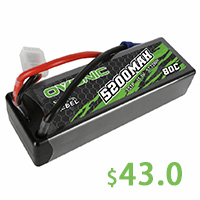 Specification:
Chemistry: LiPo
Volts: 11.1v / 3s / 3 cells
Capacity(mAh): 5200mAh
C-Rate: 80C Constant/160C Burst
Dimensions(mm): 138.5×46.5×31mm(L×W×H)
Weight(g): 396g
Plug Type:  EC5 plug
Balance Connector: JST-XH
This pack of batteries is compatible with 1/7-1/10 scale RC car.
The battery has a sustained discharge rate of 80c, providing enough punch to boost the performance potential of the Arrma car. The voltage of the 3s battery is 11.1v, and the high discharge platform means continuous high bursts, you need to worry about the lack of power. In terms of price, it easily beats other brands on the market.
Battery Upgrade Guide
Before buying a battery, please check whether the size, plug, and voltage of the battery match the vehicle.
Before running the lipo battery, please set the cut-off voltage to 3.2v-3.5v (per cell).
The battery voltage should not be lower than 3.2v and not higher than 4.2v. Over-discharging and over-charging can damage the battery.