The DANCHEE Ridgerock has a following for its great price and climbing performance. It comes with a pack of 7.4v 1500mAh batteries. Running time is about 20-30 minutes, and charging takes about 4 to 5 hours. To provide runtime, you can upgrade the battery.
Below will recommend two great lipo batteries to upgrade, perfect for DANCHEE Ridgerock.
Batteries Recommended
2200mAh 2S 50C Softcase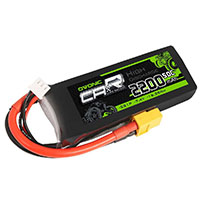 Specifications:
Type: LiPo
Capacity: 2200mAh
Voltage: 7.4V
Connector Type: XT60 Plug
Configuration: 2S (2 cells)
Size: 87*33*18mm
Weight: 118g
C-rate: 50C

Price: $16.29
I run this 2200mah 2S lipo and get about an hour of running time , doesn't add much weight, and fits DANCHEE Ridgerock perfectly.
On the first run, it was clearly felt to be responsive, with a top speed of 5-6 mph in a full-throttle run in the lane, which was impressive.
The 50c discharge rate provides more punch, it can steer any terrain and climb loose rocky hills with ease. When running, please be careful not to hit boulders at high speed and roll down hills, its chassis may be damaged by impact.
It is like all lipo batteries on the market, as long as the voltage does not exceed 4.2v and not lower than 3.2v, its life can be very long. This pack of batteries is my go-to and I'm happy with the performance, especially for the price, it can't be beaten.
This pack of lipo batteries is compatible with most 1/16 – 1/18 remote control cars, planes, boats, etc., as long as the voltage, size, and the plug match, and the range of use is very wide.
5000mAh 2S 50C HardCase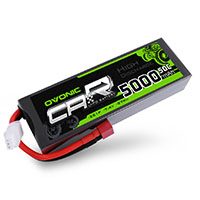 Specifications:
Type: LiPo
Capacity: 5000mAh
Voltage: 7.4V
Connector Type: Deans Plug
Configuration: 2S (2 cells)
Size: 139*46*25mm
Weight: 273g
C-rate: 50C

Price: $29.55
5000mah means you don't have to worry about running out of battery, you can play for hours until you get tired and enjoy more RC car fun.
The 273g is slightly heavier for a relatively small capacity battery, but it doesn't make a big difference, it provides more grip. So choose according to your driving style.
A sturdy hard case means more durability without fear of being punctured or bumped. Especially when children play with remote control cars, prevent abuse.
This pack of batteries is not only compatible with 1/10 scale Danchee Ridgerock, but also 1/8-1/10 RC cars, such as Traxxas Slash, Axial Scx10, Arrma Big rock, and more.
Summarize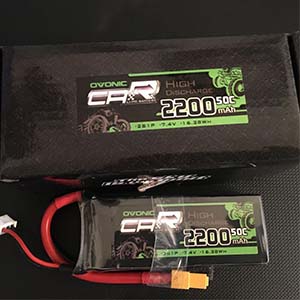 Besides these two great lipo batteries above, you can also find more suitable batteries at Ovonic for DANCHEE Ridgerock, they are reasonably priced and durable.
If you are after higher speed and better climbing performance, you can also try to upgrade the 2s battery to 3s, but only if you need to replace the power system.
Notice:
After upgrading from NiMH batteries to lipo batteries, you need to reset the low voltage cutoff. For example, cut off the low voltage of the 2s lipo battery to 3.3-3.5v.
Do not use a battery higher than 7.4v directly, otherwise, it will burn the motor or ESC. You need to set the throttle limit or upgrade the powertrain first.
Overcharging or over-discharging can shorten the life of the battery.