Now the battery connectors for Arrma cars are the latest generation, IC3, and IC5, also compatible with EC3 and EC5. Before you replace the new battery, you can check the list below, you can find the corresponding plugs for all Arrma models.
List of plugs used by Arrma
Arrma series
RC Car type
Connector type
KRATON
1/5
EC5 or IC5
1/8
1/10
TYPHON
V3 MEGA 550 BRUSHED
IC3 or EC3
V3 3S BLX BRUSHLESS
EC5 or IC5
V5 6S
TLR TUNED
OUTCAST
1/5
1/8
1/10
TALION
1/8 6S
NOTORIOUS
1/8 6S V5
INFRACTION
1/7
1/8
IC3 or EC3
FELONY
1/7
EC5 or IC5
MOJAVE
FIRETEAM
LIMITLESS
GRANITE
1/10 V3 3S
1/10 V3  550
IC3 or EC3
1/10 VOLTAGE 2WD
SENTON
1/10 V3 550 BRUSHED
1/10 V3 3S BRUSHLESS
EC5 or IC5
BIG ROCK
1/1 3S V3
VORTEKS
1/10 3S
VENDETTA
1/8 3S
EC3/EC5 vs IC3/IC5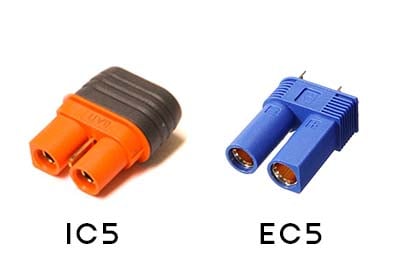 Many RC enthusiasts do not know the difference between EC3/EC5 and IC3/IC5. Both look similar in appearance but function differently. Arrma's IC3/IC5 is a new generation of smart plugs, commonly used in SPEKTRUM batteries, it needs to be used with the battery brand's ID system charger. It is equivalent to combining an ordinary battery EC3/EC5 plug and a balanced plug into one plug. You can see a metal data pin in the middle of the male plug.
Compared with other batteries, SPEKTRUM batteries with IC plugs have functions such as automatic charging and discharging. It is very convenient and safe. When charging, you do not need to set preferences, the battery will automatically charge when connected to the charger, which is very suitable for RC beginners.
However, since these functions must be matched with their chargers, considering the price, some racers who are familiar with RC hobbies will often choose cost-effective alternatives. Just like Traxxas batteries, Arrma recommends you to buy their batteries with an IC plug along with the charger, you will spend more budget here. So if you become familiar with these products, I recommend looking for some better lipo battery replacements.
Lipo battery for Arrma

For all Arrma cars, Ovonic has launched Rebel series lipo batteries.
Pros:
Cost-effective
Long run time
Long life
True discharge rate and capacity
If you are looking for a budget replacement battery for Arrma, they are perfect for you.