From the picture above, the biggest difference between them is the color and stitching. It is easy to distinguish by color, and there is a metal pin on the IC5 plug, which is used to transmit battery data when charging.
In simple terms, this can be understood as IC5 is a smart version of EC5. The following will compare the differences between IC5 and EC5 in detail, as well as their advantages and disadvantages.
Specification comparison
| | | |
| --- | --- | --- |
| Features | IC5 | EC5 |
| Color | Orange | Blue |
| Size | 3.2 x 2.1 x 0.53 inches | 4 x 2.1 x 0.46 inches |
| Max Amperage | 120A | 120A |
| Bullet diameter size | 5mm | 5mm |
| Weight | 0.32 ounces | 0.32 ounces |
| Price | Higher | Lower |
| Manufacturer | Spektrum | Horizon Hobby |
| Release date | 26-Sep-18 | 12-Dec-08 |
In terms of basics, they are not much different, and IC5 is compatible with EC5. So you can directly use the EC5 male plug to connect to the IC5 female plug. They are very different in terms of details, which are crucial. Knowing this will help you save your budget on RC hobbies.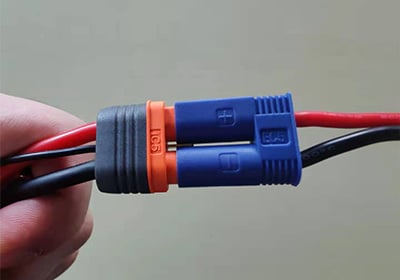 About IC5 connector
Pros
Smarter
Easy to connect
Safer and more convenient charging
Cons
High cost
Requires use with Spektrum charger
Spektrum batteries with IC5 plugs must work with their chargers. They have the function of smart charging, which is very convenient and safe, suitable for beginners who are just stepping into RC batteries.
Key features of the Spektrum Smart Battery:
The integrated microchip stores each cell's unique parameters, such as cell temperature, number of cycles, and more. These extra parameters are not found in ordinary chargers. Through these parameters, you can better understand the health of the battery and prolong the service life of the battery.
Smart charging. When the battery is connected to the charger, charging starts automatically. Very convenient, reduce your troubles.
Smart discharge to storage voltage.
If you are interested in Spektrum smart batteries and chargers, you can watch this video:
About EC5 connector
Pros
Low cost
Easy to solder
Wide range of applications
It is for hobbyists who are familiar with RC. Batteries with EC5 plugs cost less and are more versatile in RC hobbies. It works with most chargers on the market, which means you don't have to buy a battery and charger for a specific vehicle. This is the main reason why many people prefer EC5 over IC5.
You can use a soldering tool to replace the EC5 with other different plugs. But it is very difficult on the IC5 plug. It has wires and data lines on it, you can't separate them.
Batteries with EC5 plugs are like most batteries on the market, they have separate wire plugs and balance plugs. This means that these batteries are suitable for any RC car or electrical equipment, as long as the voltage and size match. You just need to replace the plug without having to buy another battery.
Also, my only complaint is that the EC5 is a little hard to unplug, but that doesn't make much of a difference. On the contrary, IC5 is more refined and more convenient in construction.
IC5 and EC5: Which is better?
Like I said, they each have their pros and cons, and you can choose one of the two based on your personal usage habits.
IC5 is good for beginners
The charger and battery with IC5 are beginner-friendly, simpler, and safer. Sometimes simple work keeps you from going crazy. In addition, the safe charging feature is also useful to prevent your home from being destroyed by a flaming battery. What you need to know is that there is a lot of low-quality, cheap batteries on the market that you don't know about. They are dangerous and you don't have to take these risks. It is not uncommon for batteries to catch fire. So if you have the budget, they are a good choice.
EC5 is great for advanced players
While IC5 is of good quality, I prefer EC5. Reasons:
The EC5 connector is separated from the balanced line for more compactness. It works with most lipo chargers on the market.
Feel free to swap the EC5 for other plugs to fit all vehicles without having to buy an extra battery.
EC5 plugs cost less and are more readily available in many stores online.
Once the IC5 plug is damaged, it is very difficult for you to replace it.
For those familiar with lipo batteries, charging is not a difficult task. Also, there are some high-quality battery brands on the market that are reasonably priced, like Ovonic, a manufacturer that has a range of high-rate batteries designed specifically for Arrma(Ovonic battery for Arrma). They can last a long time as long as you use and charge them correctly. If you're looking for lipo batteries, they won't let you down.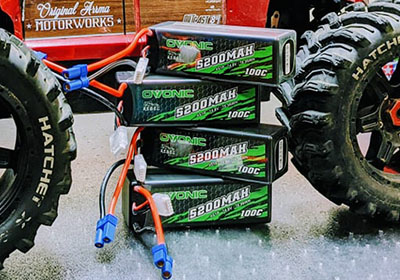 Frequently Asked Questions
Question: Can an EC5 male plug be connected to a car with an IC5 female plug? Answer: Yes. You can connect directly without using additional adapters or changing plugs.
Question: Can the plugs of other batteries be replaced with IC5? Answer: Cannot. Batteries with IC5 have an integrated microchip, while others do not.
Question: Can a normal charger use IC5 to charge the battery? Answer: Certainly. But you can't use Spektrum's smart features.
Question: IC5 Is this the future? Answer: I'm not optimistic about that. In my opinion, this technology is almost like BattGo's technology. Smart plugs from these manufacturers are not compatible with other brands of chargers. This makes other manufacturers reluctant to pay extra to cater to them.