Replacing or upgrading the battery is an easy way to get the best performance out of the Arrma Outcast. But what are the best lipo batteries for Outcast? Here, we have a professional RC team who have researched this thoroughly. So, this article will answer this question in detail.
The following content is a review of these two products and I guarantee you that choosing them is a wise decision.
Best battery for Arrma Outcast 4S & 8S
Ovonic 100C 8000mAh 4S lipo battery with EC5 Plug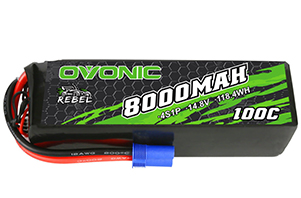 Spec of this item
Brand: Ovonic
Capacity: 8000mAh
Voltage: 4S / 14.8V
C-rate: 100C
Size: 153mm*45mm*43mm (L*W*H)
Weight: 660g
Connector: EC5 Plug
Highlights: Strong impact | Long running time | Cost-effective
This battery is designed for 4S to 8S RC cars, it has an EC5 connector and adapts to Outcast. 8000mAh capacity satisfies hobbyists who want longer run time. 100C discharge rate provides maximum power output for most bashing. Regarding price, this is one of the most cost-effective products you'll find on the market.
Check More
Tips:
Outcast 4s battery tray: 156mm x 51mm x 48 mm
Outcast 6s battery tray: 158mm x 48mm x 70mm
Outcast 8s battery tray: 170mm x 55mm x 53mm
Best battery for Arrma Outcast 6S
Ovonic 120C 6S 5300mAh lipo battery with EC5 plug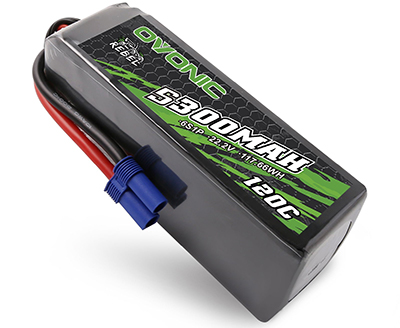 Spec of this item
Brand: Ovonic
Capacity: 5300mAh
Voltage: 6S / 22.2V
C-rate: 120C
Size: 144mm*43mm*58mm (L*W*H)
Weight: 740g
Connector: EC5 Plug
Highlights: High impact | Long runtime | Durable | Cost-effective
Have you ever been sick of those poor-quality lipo batteries? This battery is very durable and will not overheat even if you keep running at full throttle. As long as you don't over-discharge and charge it properly, then this battery has a cycle life of over 200 cycles. In addition, the best feature of this battery is that it has an impressive ultra-high discharge rate of 120 C-rate, allowing the Outcast to conquer any complex terrain with ease.
Check More
Do you want to find other lipo batteries for Arrma Outcast? The Ovonic rebel series offers you more options.
LiPo Battery Guide
Battery Voltage
The standard voltage of lipo battery cells is 3.7v, the full charge voltage is 4.2v, and the storage voltage is 3.8v.
Always remember that the safe range of cell voltage is 3.2v to 4.2v. Overcharging or over-discharging will cause them to expand and compromise their life. A swollen battery means it cannot be used any longer without increasing the risk of fire. In addition, if you need to store lipo batteries, you need to charge or discharge the battery cells to 3.8v.
Please click here to read the lipo battery voltage chart.
Battery Charging
To prolong the life of the battery, it is important to charge the battery. 1C is recognized as the safest charging rate. Therefore at home, you should charge the lipo battery with 1C. The battery needs to be supervised while charging to avoid the battery catching fire. If you are in a hurry outdoors, you can use a rate of about 3C to charge the battery, do not exceed 5C.