If you're looking for the best replacement batteries for your Arrma Kraton 4s, 6s, and 8s, you've come to the right place. Ovonic has a range of reasonably priced lipo batteries for Arrma cars, and here you can find batteries of different rates and capacities for Kraton that are perfect for you.
Ovonic batteries are high quality and affordable, so let's get to know their recommended replacement batteries for Kraton.
Best batteries for 1/8 Kraton 6s
The Kraton 6s' battery compartment measures 158 x 48 x 70mm, and the voltage is compatible with 4s or 6s batteries. Likewise, you can connect 2 packs of 2s batteries or 3s batteries in series. You can connect IC5 or EC5.
Recommended Product: 80C 3S 5200mAh Hardcase
Specs:
Chemistry: Li-polymer (Lipo)
Capacity: 5200mAh
Voltage: 11.1V / 3S / 3 Cells
Discharge Rate: 80C
Max Burst Discharge Rate: 160C
Weight: 396g
Size: 138.5mm x 46.5mm x 31mm (L x W x H)
Connector Type: EC5 plug

Price: $43
This pack of Hardcase batteries is sturdy and durable. As long as it is not overcharged and over-discharged, its service life will be very long.
The plug is a common EC5 plug, compatible with Kraton 6s, and you can connect it directly without changing the plug.
Compatible with 1/5 to 1/10 RC cars, such as Arrma Kraton 6s, Big rock, Traxxas, Axial, etc.
Recommended Product: 80C 6500mAh 3S Softcase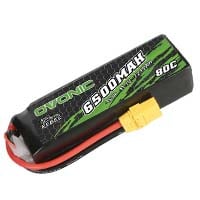 Specs:
Chemistry: Li-polymer (Lipo)
Capacity: mAh
Voltage: 11.1V / 3S / 3 Cells
Discharge Rate: 80C
Max Burst Discharge Rate: 160C
Weight: 414g
Size: 135mm x 42mm x 33.3mm (L x W x H)
Connector Type: XT90 plug

Price: $46.15
The battery with the same performance, and the soft case is lighter, which is less burden on the vehicle.
The 6500mah capacity provides enough power to run for 40-50 minutes. When the battery is not in use, please pull out the battery from the vehicle to prevent over-discharge and expansion.
Applicable to most remote control cars, airplanes, electronic equipment, etc., as long as the voltage is matched.
Running the 6s settings on the 6s lipo brings out the Kraton 6s' potential, and more punch. But if you're a beginner, I recommend using two packs of 2s batteries or limiting the throttle to the 6s to prevent abuse. This puts less stress on the drivetrain, which means avoiding overheating and damage. This is good for those who are new to the world of RC cars.
In addition to the two recommended 3s batteries above, Ovonic also offers other specifications of replacement batteries for Kraton 6s, such as 4s 6500mah and 6s 6000mah, you can find what you want on Ovonic.
If you want to know more about the actual performance of Ovonic batteries, you can watch the review video on Youtube:
Best batteries for Kraton 4s and 8s
1/5 Kraton 8s has two spacious battery trays, Max Battery Dimensions is 180 x 55 x 53mm, two packs of 4s lipo are recommended.
The battery trays for 1/10 Kraton 4s are 165 x 51 x 48mm, you can use one 4s lipo, or two packs of 2s lipo.
Recommended Product: 80C 4S 6200mAh Hardcase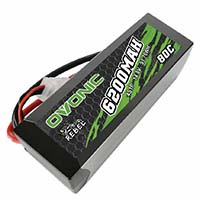 Specs:
Chemistry: Li-polymer (Lipo)
Capacity: 6200mAh
Voltage: 14.8V / 4S / 4 Cells
Discharge Rate: 80C
Max Burst Discharge Rate: 160C
Weight: 596g
Size: 139mm x 47.5mm x 48.5mm (L x W x H)
Connector Type: EC5 plug

Price: $71.11
The sturdy hard case is more durable and you don't have to worry about physical damage to the battery when the vehicle jumps or crashes.
The 6200mah power allows you to enjoy the remote control car for a long time. The large capacity means you don't have to replace a fully charged battery when it loses power, especially when outdoors. You can do a lot of jumping, drifting, and somersaulting in the mud all afternoon. The energy is continuously outputting.
Compatible with most 1/5, 1/8, 1/10 RC cars, including Outcast 8S, Kraton 4s&8s, Traxxas series, etc. Please check whether the voltage, size, and plug match before purchasing.
Review video of the Ovonic 80c 4s 6200mah:
Recommended Product: 100C 4S 5200mAh Softcase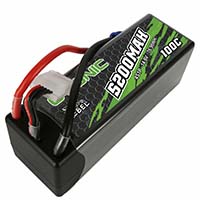 Specs:
Chemistry: Li-polymer (Lipo)
Capacity: 6500mAh
Voltage: 14.8V / 4S / 4 Cells
Discharge Rate: 100C
Max Burst Discharge Rate: 200C
Weight: 479g
Size: 139mm x 47mm x 49.5mm (L x W x H)
Connector Type: EC5 plug

Price: $56.1
The best choice for speed. The 100C discharge rate provides a huge punch. You can use it for practice or racing. Excellent performance makes it one of the top choices of racers, exceeding your expectations. Since it draws a lot of currents, you need good throttle control to keep the car running effectively. I call it rocket fuel, and if I'm willing to go full throttle, the vehicle will fly off the planet.
This pack of batteries is suitable for most 1/8 Buggy, trucks, crawlers,s and more, such as LIMITLESS, Kraton 4s, and 8s.
Kraton Battery Buying Guide
1/5 Kraton 8s Max Battery Dimensions: 180 x 55 x 53mm
1/8 Kraton 6s Max Battery Dimensions: 158 x 48 x 70mm
1/10 Kraton 4s Max Battery Dimensions: 165 x 51 x 48mm
Before buying, please carefully check the voltage, and whether the size matches. The battery connectors of Kraton series cars are all IC5 and are also compatible with EC5.
Kraton series cars have two battery compartments. It is recommended that you connect two packs in series, which can better balance the center of gravity of the vehicle without easily overturning.
Choose between hard case or soft case lipo batteries according to your personal driving style. Hard case batteries are stronger and more durable. Soft case batteries are lighter and more compact.
Why choose Ovonic for Kraton?
Of course, considering the budget, many people spend a lot on RC cars or planes. Especially now that the price of lithium batteries is rising. If you want an affordable replacement battery, this is well worth your consideration.
The smart batteries recommended by Arrma perform well, are very convenient and safe to charge, and have a long lifespan. But some people don't choose them because of budget. I can't disagree with this.
There's no denying that Spektrum batteries and chargers are great for your initial stages, the best option. Such as automatic charging, and automatic storage functions, make your life simple. It's so worth it.
But when you are familiar with lipo batteries and charging is not difficult for you, you can use batteries with balanced plugs. There are many similar battery brands on the market, which are more favorable for you to choose from. That's one of the valid reasons for me to choose a replacement battery.
It's worth noting that Spektrum batteries are not compatible with other brands of chargers, which means you have to buy and use them. That's too much of a budget, even though their quality is outstanding.
That's why I recommend you to use Ovonic batteries. Ovonic has introduced a very good replacement battery for the Arrma series. Whether your Kraton is a 4s, 6s, or 8s, you can find the correct battery here.
The Ovonic is reasonably priced, and in terms of quality and performance, it's not inferior to those high-end brands. Suffice to say, the Ovonic fulfilled my RC battery needs and it's definitely underrated.
With proper use and care, they can last 2-4 years. A high-quality Ovonic lipo battery is one of my top picks.