The Traxxas Stampede 4×4 VXL has been a top-rated 1/10 RC truck since its release. To get the best driving performance out of it, lipo batteries have become the first choice for most people.
So which lipo battery on the market is the best for it? According to the needs of a different basher, I directly recommend two batteries here.
Best battery for Stampede 4×4 VXL:
Below is information and comments about both batteries.
OVONIC 5000mAh 3S 50C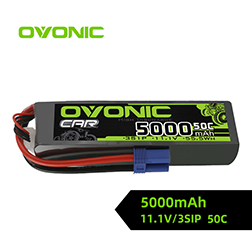 Spec of this item
Brand: Ovonic
Capacity: 5000mAh
Voltage: 3S / 11.1V
C-rate: 50C
Size:  138*42*25mm(L*W*H)
Weight:
Connector: EC5 Plug
This battery has 11.1v and 50 C-rate, which means it can provide you with plenty of power. It is durable, and which is used more than 200 times as long as it is not abused.
OVONIC  6200mAh 2S 50C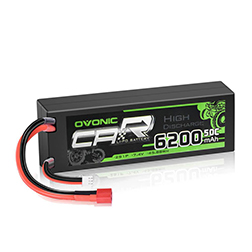 Spec of this item
Brand: Ovonic
Capacity: 6200mAh
Voltage: 2S / 7.4V
C-rate: 50C
Size:  138*42*25mm(L*W*H)
Weight: 280g
Connector: Deans Plug
This one is a budget battery for those just entering the RC world. Compared to the 3S battery, the 2S battery is not as powerful, but it provides enough power for newbies, both recreational and training.
The 6200mah capacity provides good run time and you can enjoy 20 to 30 minutes of RC fun.
Unlike the one mentioned above, this is a hard-shell battery, which protects the cells inside well from impacts. So this battery is also good for those radicals.
Another thing you need to know is that it's cost effective and can't be beaten by the competition. While you may be able to find similar batteries for about the same price, OVONIC has always been a reliable brand.
Tips for Stampede 4×4 VXL:
Power System: 3S
Battery Tray Size: 142 x 48.5 x 25 mm
Battery recommendation: 2S or 3S lipo battery
Choosing the Best Battery for Stampede
Before choosing a battery, you should know some key points such as the size of the battery, voltage and plug, etc.
Battery Size
Every RC car has one or two battery trays which are all different in size and the Traxxas Stampede 4×4 VXL is no exception. Be sure to purchase a compatible battery based on the battery tray sizes mentioned above. Also, batteries that are too small need to be secured or they will be bumped and damaged.
Battery Voltage
The Traxxas Stampede 4×4 VXL has a 3S power system, you can run 7.2V NiMH batteries or 2s or 3s lipo batteries. It is always important to remember that too much voltage can damage the power system. Too low a voltage will result in insufficient power.
Battery plug
The Stampede has a Trx female power connector, if the battery has a connector that is not of this type you will need to replace the plug or use an adapter.