The off-road vehicle Axial scx10 II and III have a large following due to their excellent performance. The included ESC supports 11.1V, and you can use 2s-3s lipo batteries, compatible with T&Deans plugs. The battery tray measures 32x44x147mm. Below will recommend some of the best budget lipo batteries that are affordable, durable, and have a long-running time.
50C 3S 2200mAh
Shorty Softcase lipo battery for Axial SCX10 II & III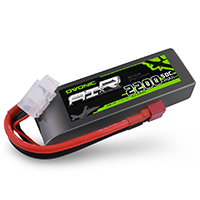 Specs:
Chemistry: Li-polymer (Lipo)
Capacity: 2200mAh
Voltage: 3S(11.1V)
C-Rate: 50C/100C
Weight: 179g
Dimensions: 106 x 34 x 23mm (L x W x H)
Plug Type: T&Deans
Balance plug Type : JST-XH connector

Price: $19.8
Fits most RC cars and RC planes (11cm-15cm), including SCX10™, Deadbolt™, 2012 Jeep® Wrangler, FREEWING F-105, and more.
Package
2 LOGO stickers
1 pack battery
1 manual
There is a soft pad inside the box to protect the battery from shocks. A lot of people throw away these little foam pads. I highly recommend you guys. You can reuse these as fillers in your car. Just to protect the battery from hard shocks, especially soft case lipo batteries. So actually these things are very useful.
The balanced port comes with a plastic case attached, which is great. You can grab it to pull in and out, so you won't have a problem pulling the balance end out, very convenient. Secure it to the Scx10's battery tray with a velcro pocket, very sturdy and compact.
Performance Testing
The first measured voltage data was when I got this pack of batteries.
| | | | | |
| --- | --- | --- | --- | --- |
| Cell | All | 1 | 2 | 3 |
| Storage voltage | 11.4v | 3.81v | 3.79v | 3.82v |
| Full voltage | 12.6v | 4.19v | 4.19v | 4.17v |
| Low voltage | 10.9v | 3.66v | 3.64v | 3.62v |
While charging, the temperature of the battery did not change in any way.
The Scx10 ran in the yard for nearly 50 minutes when fully charged.  The total voltage is 10.9v, and the maximum voltage gap is 0.04v, which is very good. This doesn't seem to drain the battery before I get tired. Impressive. So I believe he can run for more than 1 hour without a problem.
The 50c discharge rate provides an amazing punch. Even on wet ground, the Scx10 climbs smoothly over large rocks and steep slopes with little effort.  I'm very pleased with its performance, and for the price, it can't be beaten.
Ovonic 50C 3S 2200mAh for SCX10 II review video:
50C 2S 5000mAh
Hardcase lipo battery for Axial SCX10 III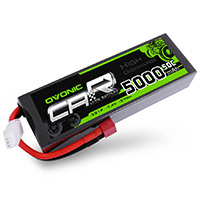 Specs:
Chemistry: Li-polymer (Lipo)
Capacity: 5000mAh
Voltage: 2S(7.4V)
C-Rate: 50C/100C
Weight: 273g
Dimensions: 139 x 46 x 25mm (L x W x H)
Plug Type: T&Deans
Balance plug Type : JST-XH connector

Price: $29.55
One pack for 1/10 RC car, like Scx10 ii and iii.
Two packs for 1/8 RC car, like Traxxas E-Maxx, Slash.
The 5000mah power is very sufficient, you can get more RC car fun. The sturdy hard case is more durable and prevents abuse. It's just that hard-shell batteries are only suitable for remote control cars, not for planes.
In addition to the above two packs of batteries, Ovonic also has many batteries suitable for Scx10, including 3000mah, 4500mah, and 5200mah. They have a good reputation, so you don't have to worry about quality and safety. Ovonic batteries are reasonably priced compared to other batteries, don't miss them.