If you're looking for lipo batteries for your Arrma Typhon 3s or 6s, you've come to the right place. Here are some of the best batteries recommended for you. The price is reasonable, the performance is excellent, and it is very suitable for them.
| | | |
| --- | --- | --- |
| Vehicle Type | Typhon 3s | Typhon 6s |
| Battery tray size | 165 × 51 × 48 mm | 158 × 48 × 51mm |
| Recommended battery | 2s or 3s lipo | 2 × 2s or 3s lipo |
Recommended 1: 80C 3S 5200mAh
Best lipo battery for practice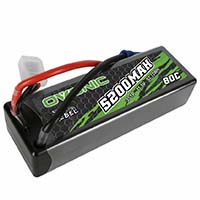 Specs:
Chemistry: Li-polymer (Lipo)
Capacity: 5200mAh
Voltage: 3S(11.1V)
C-Rate: 80C/160C
Weight: 396g
Dimensions: 138.5 x 46.5 x 31mm (L x W x H)
Plug Type: EC5
Balance plug Type: JST-XH
One pack for Typhon 3s. Two packs for Typhon 6s. Suitable for 1/7, 1/8, and 1/10 RC cars, such as Big Rock, KRATON 6S, Traxxas Slash, etc.
The packaging and construction of the battery are great, and it looks sturdy. Placed firmly on the battery chassis without shaking. I ran the test with a Typhon 6s, with this pack of fully charged batteries connected. While running, the car becomes sensitive. The run time is about 35 minutes until the voltage is cut off. Using it, you can handle long practice runs until you get tired. The measured battery voltage data are as follows:
| | | | |
| --- | --- | --- | --- |
| Cell | Low Voltage | Full Voltage | IR |
| 1 | 3.398v | 4.200v | 2.0mΩ |
| 2 | 3.394v | 4.198v | 1.7mΩ |
| 3 | 3.393v | 4.198v | 1.9mΩ |
| Gap | 0.004v | 0.002v | 0.3mΩ |
The voltage is very balanced. There are no problems with voltage and internal resistance after using the charger for many cycles. Surprisingly, the capacity is very close to the advertised 5200mah. Got 4886mah out of it, which is impressive. If I fully discharge it, it's 5200mah for sure. Since the low-voltage lithium battery is prone to damage, I don't completely drain it. As can be seen from the test data, the internal resistance (IR) is very low.
Durability: After many big jumps, they are intact. The sturdy case seals well, especially the holes for the wires. Unlike those bad batteries, sometimes dirt gets in and cleaning is a pain and you have to stick them with tape or something.
I'm happy with these batteries, no complaints, especially for the price, which can't be beaten.
Also, I'm not worried about their longevity. My other Ovonic battery packs are 1-2 years old with over 150 cycles. Time will tell. While it's not the best-performing battery, you can't ask for more given the price.
In addition to the battery pack above, there are two great packs of batteries for the Typhon 3s and 6s.
Recommended 2: 100C 3S 6000mAh
Best lipo battery for racing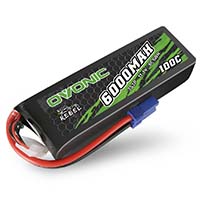 Specs:
Chemistry: Li-polymer (Lipo)
Capacity: 6000mAh
Voltage: 11.1V / 3S / 3 Cells
Discharge Rate: 100C
Max Burst Discharge Rate: 200C
Weight: 412g
Size: 132mm x 44mm x 33mm (L x W x H)
Connector Type: EC5 plug
Balance plug Type: JST-XH
This battery is designed for speed. The 100C discharge rate provides more punch, giving you an edge in the race. If you are ready to race, it will be one of the best options for you to upgrade your vehicle. As long as the battery discharge is not lower than 3.2v, and the charge is not higher than 4.2v, it can have a long service life.
This product is suitable for most remote control cars, planes, boats, etc. Please check the size and plug for compatibility with your electronic device before buying.
Recommended 3: 50C 2S 5200mAh
Best lipo battery for bashing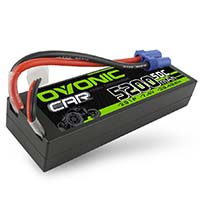 Specs:
Chemistry: Li-polymer (Lipo)
Capacity: 5200mAh
Voltage: 7.4V / 2S / 2 Cells
Discharge Rate: 50C
Max Burst Discharge Rate: 100C
Weight: 243g
Size: 139mm x 47mm x 21mm (L x W x H)
Connector Type: EC5 plug
Balance plug Type: JST-XH
If you are in the initial stage of RC, this pack of 2s hard case batteries is perfect for you. Running the 2s lipo battery on the 3s powertrain produces less heat and breakage. Prevent abuse and extend the life of your vehicle.
Compatible with 1/7 to 1/10 RC cars.
To know the actual performance, watch the review video of the Ovonic lipo for Typhon 6s:
As we all know, some brands have been forced to go out of business due to the rising materials used to manufacture lithium batteries. So I used to be looking for a reasonably priced battery. Several of my RC friends have shared Ovonic on social media platforms and it seems they have a good reputation. This caught my attention, so I decided to try a few packs.
The result did not disappoint me. The Ovonic battery packs a ton of runtime and an amazing punch. They have performed better than my other brands. Even when abused, they restore voltage balance, incredible.
Check out more Ovonic replacement lipo batteries:
Battery for Typhon Buying Guide
Before buying replacement batteries for your Typhon 3s and 6s, here are a few things you need to be aware of:
Capacity
Bigger capacity doesn't mean better. First of all, the large capacity will bring weight and affect the running effect of the vehicle, which is counterproductive. So mid-range is ideal.
Budget
Choose the right battery according to your budget. The price of batteries of the same specification in the market varies greatly, so it is a trend to find products at reasonable prices. If you're on a budget, then you don't have to think about this. In addition, too cheap batteries often cannot guarantee good quality. Some poor-quality batteries catch fire due to quality issues and can even burn down your house! This is not uncommon.
After-sales service
Checking the product for warranty and return service is the right thing to do. Due to the different production batches of the same brand, the quality cannot be consistent. When something goes wrong, you need help. That's why I say after-sales service is important.
Frequently Asked Questions
What is the difference between EC and IC plugs?
IC is a smart plug from Spektrum, which is compatible with EC plugs. It's the equivalent of merging wires and balancing wires together. Compared to ordinary batteries, it has more functions, but it must be used with their chargers.
What is the minimum voltage of the battery?
The minimum voltage of the battery cell is 3.2v. If it is a 3s battery, for safety, then you can set the voltage cutoff to 10.5v (3.5v*3).
How long does it take to fully charge?
Depends on the amount of charging current. The safest charging rate is 1C, so it usually takes 1 hour to fully charge.