Ampow Black Friday Ovonic lipo buying guide, to get most offer
Black Friday is coming! Ampow also have a big deals with Ovonic Lipo batteries.
You can reach the USA black Friday page by:
https://www.ampow.com/blackfriday
If you want to ship to other countries, you can link to:
EU:L https://www.ampow.com/eu/black-friday-sale
CA:https://www.ampow.com/ca/rc-lipo-batteries.html
AU& RU& MY& SG& TH& KR& IN& UA& IL&BY:
https://www.ovonicshop.com/collections/battery-deals
So how can you get the big offer? On Black Friday, almost lipos are involved,so this guide is aims to provide you the biggest discount lipo and what is their compatible models.
which battery can get in this cut?
850mah 2s is the new one of ovonic Airplane/heli new lipo battery, can used for airplane , Ocean Rescue heli, GAUI Hurricane-200 Heli, Gaui EP-200, Aztech Helex, firefox EP200, TX&RX is also available. Only $15.03 for 2 packs.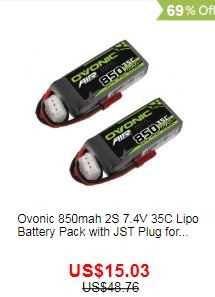 Then, we can look at the FPV lipo battery, which are most popular among Ovonic fans and receive many positive feedback from customers.
During Black Friday, several best sellers will have a amazing price, especially the 4packs FPV lipo batteries.
O-100C-1300-4S1P-XT60  4pack— $45.45 ($11.36 for each pack)
O-100C-1550-4S1P-XT60  4pack —k  $59.99 ($15 for each pack)
O-100C-1300-6S1P-XT60  4pack —$93.28 ($23.32 for each pack)
Don't miss it, otherwise you might need to wait for next Black Friday to get these product in this price.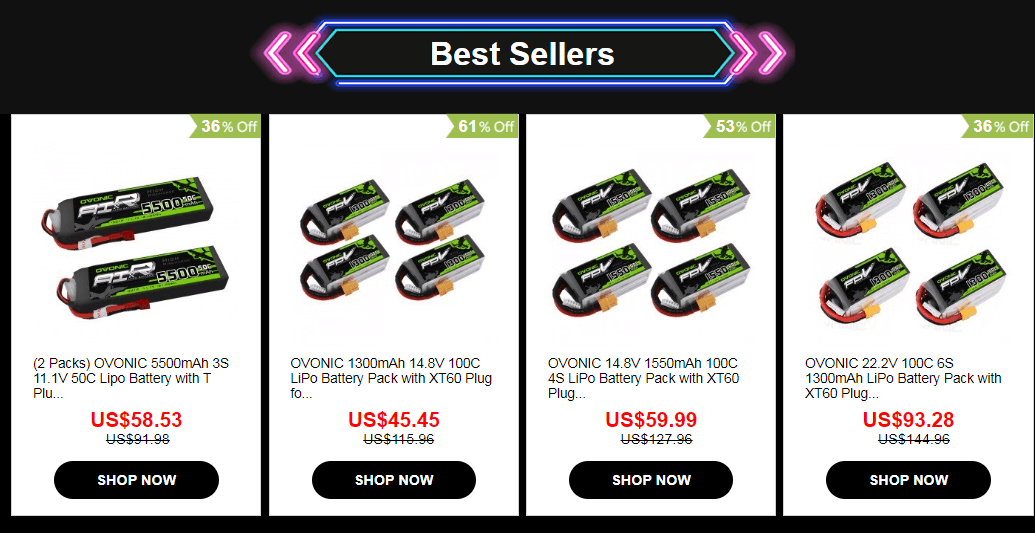 Besides, RC CAR lipo battery also has many items that have a big price drop! Let's look at the big discount items
Let's look at O-50C-5000-2S1P-HC21-T($17.99),O-50C-5200-2S1P-HC24-XT60($18.99),also worth to buy, that is suitable forfor 1/10 RC short course, monster truck,crawler, two for 1/8 scale Truggy.But if you want to use in other car model , O-50C-4000-2S1P-HC8-T($14.99), is compatible with TROPHY TRUGGY FLUX, TROPHY BUGGY FLUX, VENTURE TOYOTA FJ CRUISER, JUMPSHOT MT &JUMPSHOT MT FUZION and  O-50C-2200-3S1P-Deans($11.29) forRC crawlers.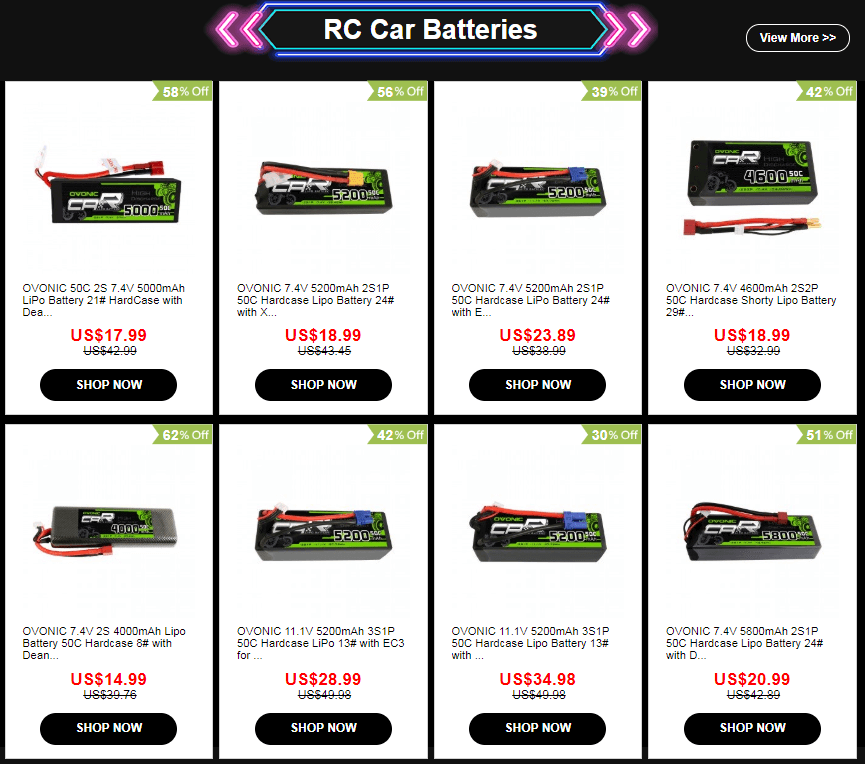 Finally, don't forget airplane/Heli lipo batteries are in big promotions too. Like the O-50C-1500-2S1P-T for foamy airplane,RC helicopter, and 1/18 scale Associated cars, etc. just need $7.99 and more deals are show as the following picture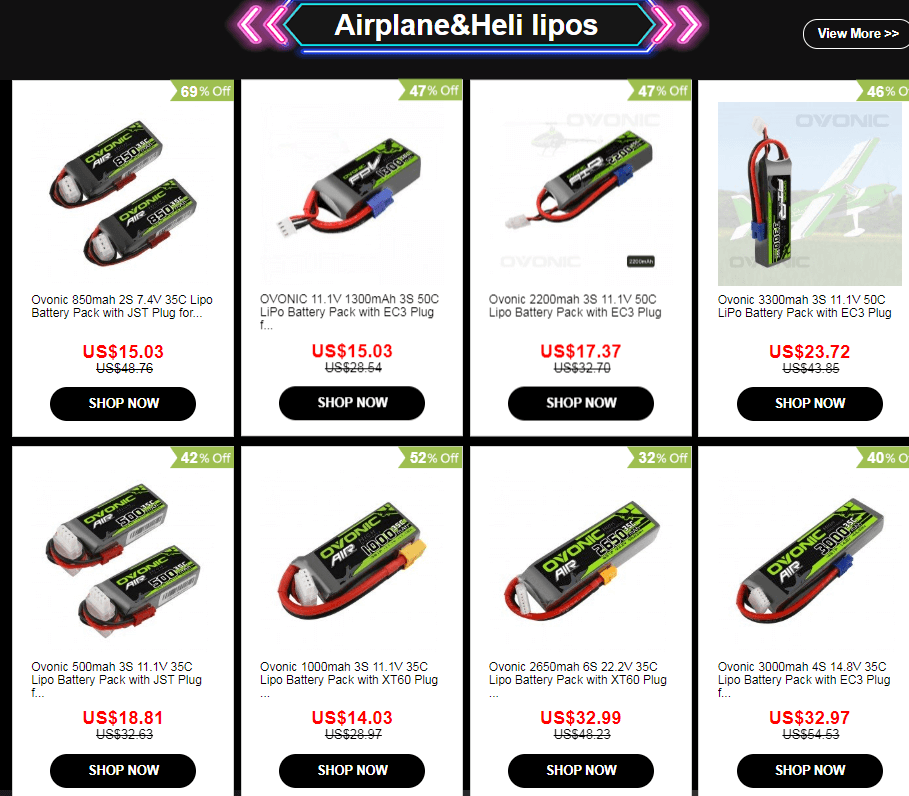 Apart from lipos mentioned above, Ovonic new lipos such as O-35C-1000-3S1P-XT60 for Small plane and heli, O-80C-850-3S1P-XT30, O-80C-650-4S1P-XT30 and more will also in this campaign.
As mentioned above, almost all lipos will participate in the Black Friday event, so it is not possible to put all products here. For details, you can enter the event page to view and select.
In a word, this promotion of ovonic lipo is the biggest event of the year, don't miss it!
Beside the discount, if you pay for a certain price $129/$298, you can get extra $10/$30 off!