Overview
Halloween evolved from the ancient Celtic holiday of Samhain, but over the centuries Halloween transitioned from a pagan ritual to a day of parties, costumes, jack-o-lanterns and trick-or-treating for kids and adults. Now Halloween is a great holiday in Europe and US
In the late 1800s, there was a move in America to mold Halloween into a holiday more about community and neighborly get-togethers than about ghosts, pranks and witchcraft. At the turn of the century, Halloween parties for both children and adults became the most common way to celebrate the day. Parties focused on games, foods of the season and festive costumes.
In such a festival, it is very suitable for playing RC car, RC airplane with children and also very suitable for watching the festival scene with FPV.
Of course, Ampow offers replacement batteries for RC hobbies, so on the holiday of Halloween, the ovonic lipo battery will have huge discounts.Halloween in 2019 in oct. 31, so this promotion campaign will hold from 10.21 to 10.30, over a week in USA & EU warehouse.
Therefore, what highlight of the deals.
USA warehouse
https://www.ampow.com/halloween-deal
Firstly, Funny Pumpkin Sale zone
Offering newest LiPo batteries of ovonic, 850mah 3s 80C & 4s 80 850mah for FPV, 2650mah 6s 35C for RC Airplane,RC heli.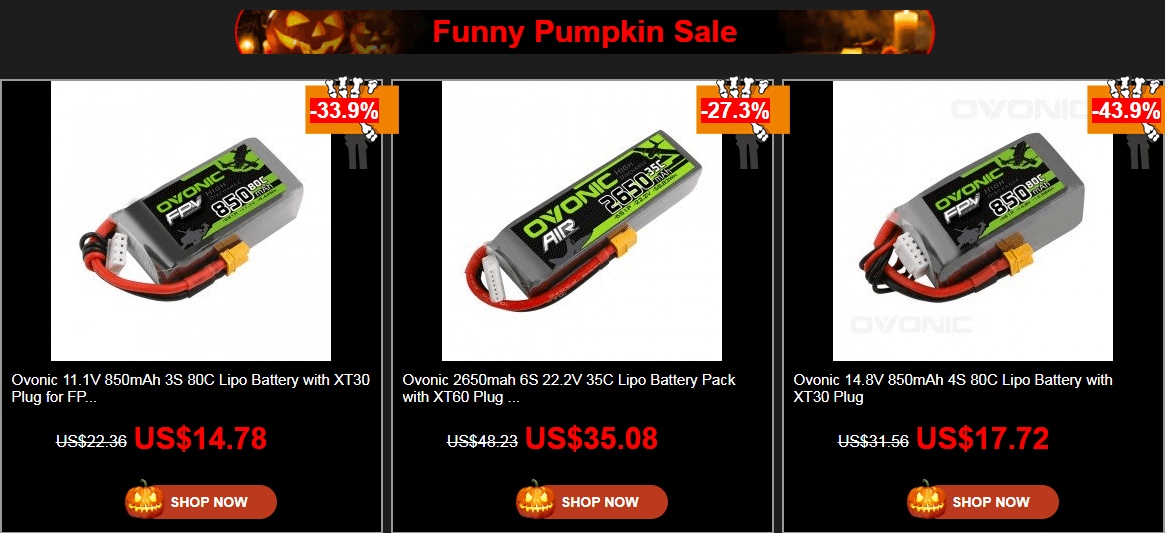 Ampow show 16 items on sales page, but you can find more items through the upper right corner of the "view more" button.
May someone notices that this zone is similar to our clearance deals. Not quite similar, this time we added more products into like 100C 1550mah 6S, 50C 1300mah 3S, 50C 5200mah 3S and etc.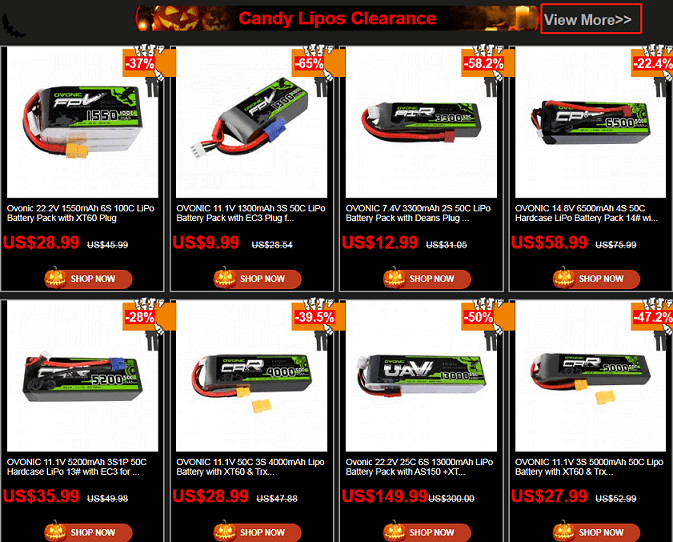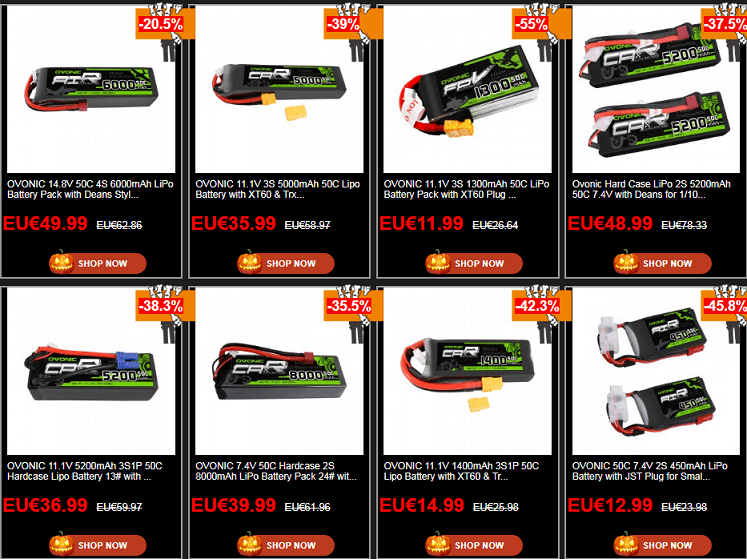 Thirdly, Halloween Best Deals
Ampow best sellers also in this event! 1500mah 4s 100C 4 packs up to 50.8% off, only need $15.75 for each pack. But if you only want 1pack or 2packs, 1300mah 4s 80C is also a good choice.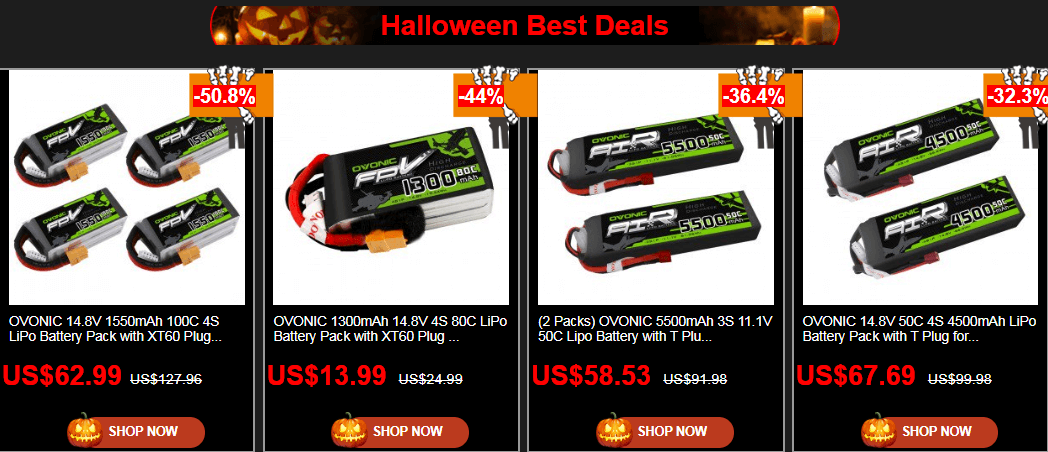 EU warehouse
https://www.ampow.com/eu/halloween-deal
A little difference from USA warehouse, different products with different offers participating in the event.
First, Halloween Best Deals zone(total 26 items)
1550mah 6s 100C is one of the best sellers for FPV hobbies, now it only needs €33.16.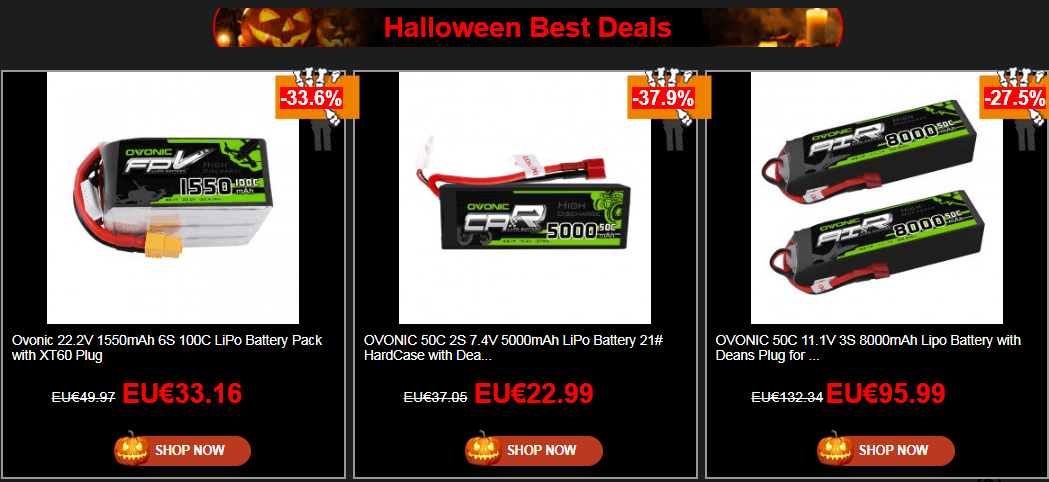 There are also 26 items involved in this event. And the lipo battery with the best discount is 1300mah 3s 50C which is suitable to FPV, up to 55% off, only €11.99. Don't find the lipo you need? Click the upper right corner of the "view more" button to see more items.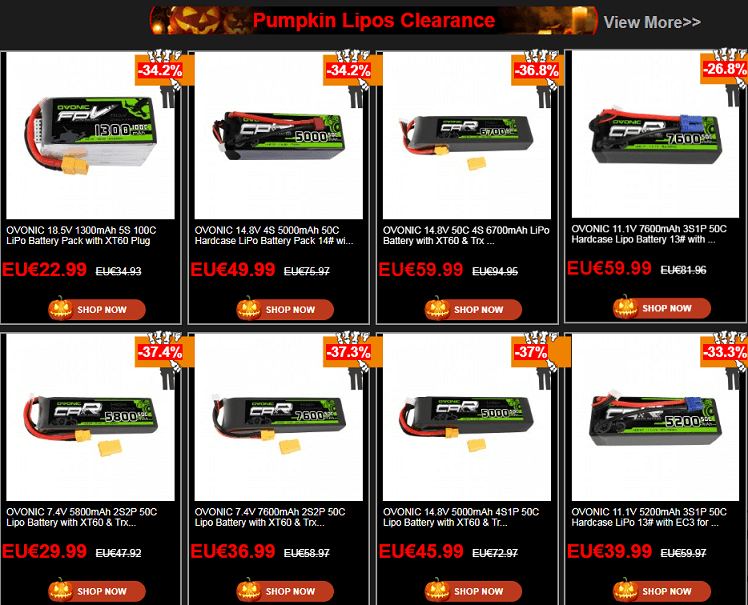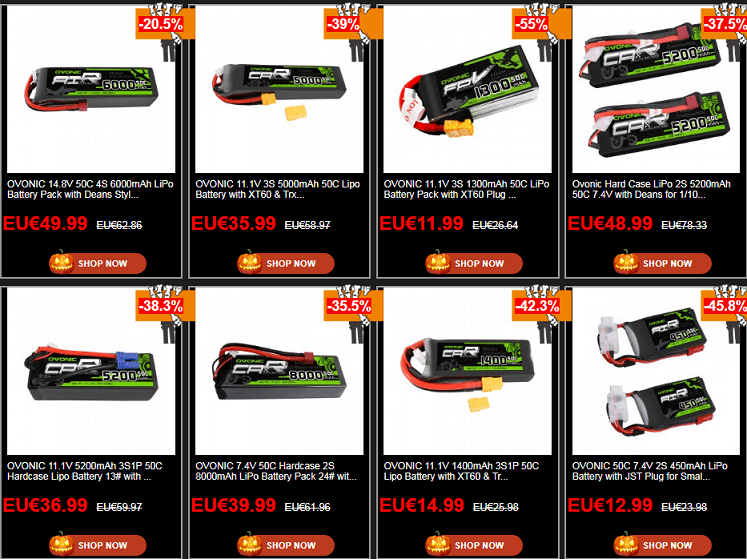 Third, Free shipping zone
Don't want to pay for postage? We choose 4 popular lipos to this free shipping zone. For these four batteries, no matter how many you buy, they are free of postage, but if you buy other batteries together you will need postage, so if you need to buy other batteries, separate purchase is the best.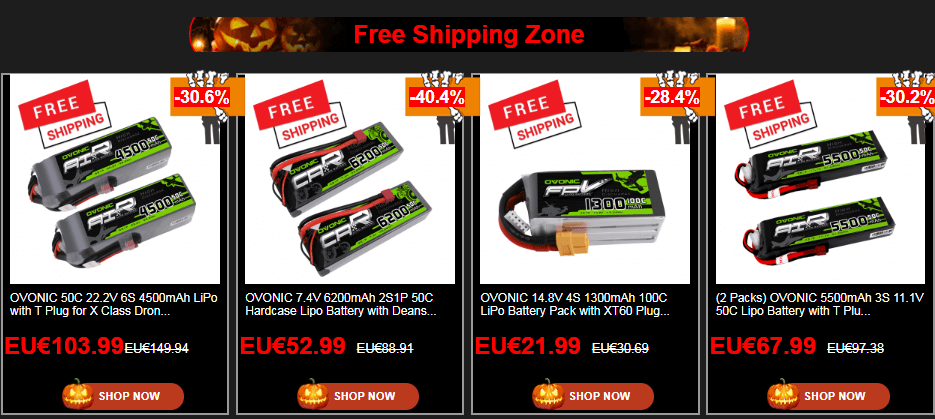 In addition, another zone will be added soon, please pay attention to our page.