The Rustler VL-5 is a truck with a brush system and comes with a pack of 8.4V NiMH batteries. For longer runtimes and higher speeds, you can upgrade the battery. Its power system is a 12T 550 modified motor and High-performance waterproof XL-5™, you can run a 7.4v 2s lipo battery directly without any problem.
Of course, you can also run a higher voltage lipo battery, provided you need to upgrade to a brushless system and replace the powertrain and transmission. If you run the battery with too high a voltage, it will damage the ESC and motor.
Below I will recommend some great lipo batteries for you to upgrade and give my actual test results to see what top speed and performance I can get from these batteries.
Batteries Recommended
2S 5200mAh 50C Hardcase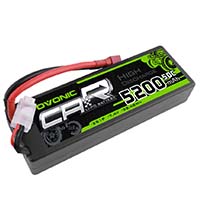 Specifications:
Type: LiPo
Capacity: 5200mAh
Voltage: 7.4V
Connector Type: Deans Plug
Configuration: 2S (2 cells)
Size:139*46*24mm
Weight: 259g
C-rate: 50C
It fits the Rustler nicely and fits snugly on the battery tray. You can run it directly without worrying, very convenient. Also, its plugs are Deans, so you can just replace the Traxxas plugs.
The capacity of 5200mah provides enough power. Last time I ran it for about 40-50 minutes until I got tired and was very impressed. You can have more RC car fun in the yard or outdoors.
This sturdy hard case battery is more durable and you can jump and flip without worrying too much about battery damage, perfect for practice. As long as it is not overcharged and over-discharged, this pack of batteries can last 2-3 years.
It is compatible with 1/8 and 1/10 RC cars or other powered devices, including mainstream vehicle brands such as Traxxas, Arrma, Axial, and Tamiya.
50C 3S 4000mAh Softcase
Specifications:
Type: LiPo
Capacity: 4000mAh
Voltage: 11.1V
Connector Type: XT60 & Trx Plug
Configuration: 3S (2 cells)
Size:135*42*22mm
Weight: 280g
C-rate: 50C
It comes with a Traxxas plug, which is great.
It delivers an amazing punch to refresh your Rustler.
Top speed: The included NiMH battery is 3000mah and has a top speed of 37 miles per hour. This pack has a top speed of 48 miles per hour with only half throttle. Obviously, I think it could be over 70 mph if driving on a nice open road.
This pack of batteries is suitable for 1/8-1/10 RC cars, airplanes, and other RC models, as long as the voltage, weight, and size match.
Power system upgrade to 3s
Provides ample power for all-terrain driving. You can make a few simple battery upgrades that provide a major power boost and significantly increase speed. A new powertrain will be installed, the gearing replaced, and the upgrade complete with a 3s lipo battery.
For power systems, we recommend the VXL-3s brushless system, an ultra-efficient, low-maintenance system optimized for maximum power flow. For the transmission, we recommend installing a 28-tooth pinion and an 83-tooth spur gear. This transmission will increase the model's top speed for high-speed travel on flat terrain.
There are many battery options, we will be using the Ovonic 3s 4000mah lipo battery which can be charged using a common lipo charger. The 3s lipo delivers maximum power and speed, but we also like the 2s 5200 lipo for general driving and long runs. Even when used with a 7s 3300mah NiMH battery, the brushless motor will provide higher speed and power when used with proper gearing. High-quality Ovonic lipo batteries are reasonably priced and they are my first choice.
Battery Upgrade Notes
Before running the lipo battery, you need to set the low voltage cutoff. It's off by default and you can see it's the red light. You want to make sure it is green when using the Lipo battery. So all you need to do is hold down that button for about 10 seconds and you'll hear a beep. This means it has been activated and the light is green, keep that in mind.