There are four cars in the Outcast series, all of which differ in proportions and components. So, today I only compare the 1/8 6S's Outcast and Notorious and study their differences in detail.
They echo Arrma's long-standing branded personality as producers of durable, large-size, and speed-performance cars with their almost similar build.  This guide takes you through a few highlights of these models. Let's get started!
Difference between Notorious and Outcast
The components of Outcast and Notorious are basically the same, including motor, ESC, tires, size, weight, etc., just like two brothers. The only difference between them is the price, body, and Extreme Bash.
Parts comparison
They are both all-around stunt trucks designed for bashing. They can drive on any terrain, including grass, dirt, and roads. You can do some cool stunts, fast turns, heads up, big jumps, and backflips if you want.
The Outcast and Notorious also have a waterproof powertrain, so you don't have to worry too much about getting water in and damaging parts. You can run on muddy ground and have more fun.
The Outcast case is modern and made of polycarbonate. And Notorious's style is retro and looks more metallic.
Outcast kits cost more and the case material is 7075-T6 aluminum, so it's very durable. On the other hand,  Notorious uses 6061-T6 Aluminum. When it comes to how heavy they weigh, Outcast and Notorious weigh similarly on the 11lb scale; however, Outcast overweighs Notorious with its 10oz vs. 6oz scale. EXB is designed for bashing and is sturdy. Especially when making big jumps, it reduces component damage and prevents abuse. It's great for beginners and makes your life easy. Again, this means you don't need to spend the extra budget on repairs or upgrades.
And the Notorious has a wider selection of upgraded parts, and you can get better parts, such as high-end materials like full carbon fiber, to build a lightweight truck. If you like to build, it's better for you.
So, considering the budget for repairs and upgrades, their price difference is not that big.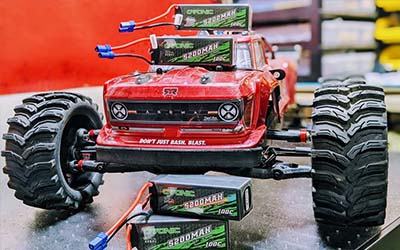 Comparison Table
| | | |
| --- | --- | --- |
| Vehicle type | Outcast | Notorious |
| Scale | 1/5, 1/8, 1/10 | 1/5, 1/8, 1/10 |
| Motor | Brushless | Brushless |
| Speed | 60mph to 96+mph | 60mph |
| Battery | LiPo | Lipo |
| waterproof | Yes | Yes |
| Bearings | Shielded | Sealed |
| Weight | 5.17kg / 11lbs, 6oz and 24lbs (11kg), 10oz | 5.17kg / 11lbs at 6oz |
| Price | $729.99 | $569.99 |
Performance comparison
Occasionally, when the Outcast flips in the air, it may twitch and be difficult to control. You have to correct its angle as quickly as possible to avoid a failed fall. Conversely, Notorious is more stable in the air, and you don't have to worry too much.
Cornering: The Notorious and Outcast have a shorter wheelbase than common 1/8 trucks and a tighter turning radius, which means more agility in cornering.
In addition to these differences, their bearings are slightly different. Outcasts are shielded bearings, while Notorious are sealed bearings.
Frequently Asked Questions
Are The Notorious And Outcast The Same Car?
The Arrma Notorious and Outcast RC cars are stunt cars and are mostly identical in chassis and other mechanical functions. Their main difference, however, is in their body styling.
The Outcast model features a more modern and aggressive body shell, while the Notorious has a more round, old-school, and hot-rod style shell. Arrma Outcast models also spot a conventional polycarbonate shell painted from within while spotting a glossy finish. You won't have to worry about costly repairs when cracked or scraped as you're just scuffing up the outside plastic protecting the internal painting.
On the flip side, Arrma's Notorious body shells look similar to a real steal. Hence, the reason why the outer part of the shell is painted with a black or blue matte finish. However, its infernal part has silver paint; so if you crash during a run and it leaves small signs of scratches on the color, you get this silver coming in from the bottom to make it look like you scratched real bodywork on a real car.
The updated Arrma Notorious and Outcast RC vehicles have similar features like the tower-to-tower braces, sliding motor mounts, IC5 connectors, and Spektrum radio systems. Both cars can be run on 4S or 6S set-ups, with the 6S providing a top speed of 60 mph. However, these extremely durable cars are made for performing stunts like backflips, front flips, huge jumps, and wheelies.
This means that they are the same cars since they have the same electronics that offer similar speed and performance, but each one has a significant difference in the body structure.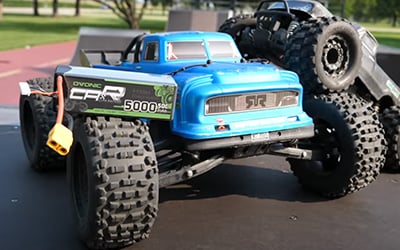 What Battery Do They Use?
ARRMA Notorious Battery
Arrma Notorious RC cars can run on a LiPo battery that has at least a 35C rating or higher. However, the higher the C-rating, the better as many battery manufacturers will fabricate the numbers to sell their products. On average, their LiPo battery will last 18 months. Plus, when fully charged at 4.2 volts, they can last for thirty minutes runtime. This means half an hour of bashing feast for a Notorious RC car model.
LiPo Battery For NOTORIOUS 6S Recommended.
ARRMA Outcast Battery
Arrma Outcast RC models will accept 4s or 6s LiPo batteries, whether hard or soft-case pack. The maximum dimensions of the battery pack are 6.22 x 1.89 x 2.76 inches (158 x 48 x 70mm).
This LiPo power system provides tremendous speed, long-lasting reliability, and super-efficient operation when used with the brushless motor and ESC on the roughest terrains.
Lipo Battery For Outcast 6S Recommended.
How Fast Can The Outcast And Notorious Go?
Arrma outcasts are designed fast and tough. With their highly-functional brushless motors, performance-driven LiPo batteries, and superior-quality electronics.
An Arrma outcast can reach speeds between 60mph to 96+mph.
RC hobbyists, both beginners, and advanced racers can enjoy affordable, no-holds-barred stunt performances on any terrain.
Technically, Noto's can also achieve speeds as high as 60+mph (97km/h), especially when they are in optimum condition with a LiPo battery and an optional pinion gear.
Apart from this, they have a wheel size larger in diameter that gives more speed. The Notorious wheels tend to balloon more, adding more speed to the track.
Notorious Heavier Than Outcast?
Arrma notorious has a mass that ranges up to 7.2 ounces. However, without the LiPo battery installed in the Notorious BLX RC car, they weigh 5.17kg / 11lbs at 6ounces.
On the other hand, Arrma Outcast also has a 5.17kg weight when their batteries aren't installed. However, they can weigh as high as 24lbs (11kg) at 10 ounces.
Are The Arrma Outcast And Notorious Waterproof?
When an RC car is built to withstand all climate conditions, especially when blasting mud, snow, rain, and heat, it will need waterproof electronics to ensure functional performance when running in these conditions.
All Arrma vehicles come equipped with fully waterproof electronics and power systems, including the steering servo and radio boxes.
That means both the Outcast and Notorious have waterproof electronics that make running in mud, water, dirt, and snow possible.
What Scales Are These CarsThese two models come in three different sizes?
The 1/10, which is most common for various Arrma models;
1/8, which have a large number of designs in their various models;
And the largest is the 1/5 scale, which comes with larger components and extends their lifespan, especially when used for bashing on off-road tracks.
What Motor Do Both Use?
Both the Outcast and Notorious models, they operate a brushless power system that features a brushless motor and an ESC fitted with dual EC5 connectors and LiPo batteries.
In essence, Outcast and Notorious Arrma models both operate a brushless motor.
Prices For Each Model
It's no doubt that Arrma produces some of the most expensive RTR RC vehicles in the market today. However, models like the Outcast and Notorious are less-expensive and have varying prices that suit different budgets.
An Outcast will typically cost $729.99, while the Notorious will cost slightly lesser at $569.99.
Are The Two Models Worth It?
When purchasing Arrma models, users are guaranteed maximum speed and a thrilling experience on any terrain of their choice. Outcast and Notorious models are no different. In fact, they offer additional benefits than most RC models in terms of pricing, use, weight, and looks.
Is the ARRMA Notorious worth it?
Beneath its sleek look, Arrma's notorious RC models have super wheels that are super-fast. The truck is a powerful beast with a build like a tank. It offers advanced racers extreme aggression on the track, like driving a real car. Plus, since Notorious are shipped ready-to-run, they allow for upgrades. Notorious is also cheaper than the Outcast and weighs less, thus making it easy to maneuver on off-road surfaces. The most recent Notorious even have different arms, chassis, shock towers, and electronics than the current Outcast.
When comparing these two RC trucks, the ARRMA Notorious is definitely worth it. It's a premium-quality RC truck from one of the (if not THE) best manufacturers in the industry. This truck is solid and will last for a long time.
Is the ARRMA outcast worth it?
Like Notorious, Outcast offers users stunt opportunities in all dimensions. Plus, if you scratch its body, it would still look as good as new since it is engineered with a polycarbonate shell. And, unlike Notorious's traditional shell design, Outcast models look more stylish.
If you are willing to pay the price for the upgrades that this truck offers, it sure is worth it. The ARRMA Outcast will never let you down and surely turn heads.
Conclusion
If you're a beginner looking for more power in your RC car, Arrma Notorious and Outcasts are a great place to start with their use of LiPo batteries and a Brushless system. Though they may have different shells, their mechanical components function similarly and are great for bashing. They also come waterproof, so you never have to worry about climate conditions.