Brand: SKYSTARS
Item No.: TA LON X110
Size: 100*90*40 mm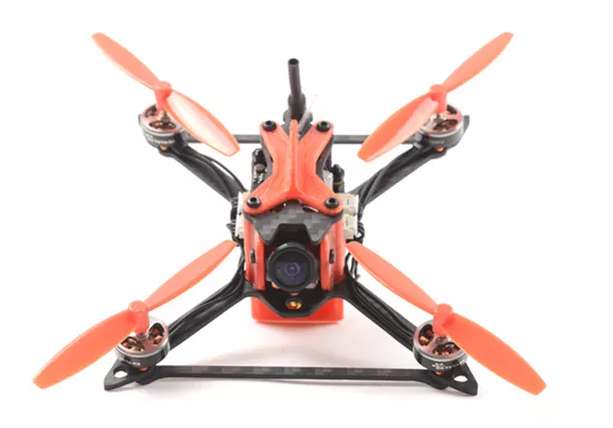 Receiver options
Spektrum DSMX/DSM2
Flysky IBUS
Frsky SBUS D16 (XM+)
No receiver
Features & specs
1.Overview
110mm size carbon fiber frame with 3D printed parts;
Two type of battery holders;
2-4s LIPO compatible;
RunCam Nano 2 700TVL FPV camera;
15A 2-4S Blheli_32 RGB light ESC;
Front+Rear frame reinforcements;
F4 flight controller with BetaFlight OSD;
65mm 2-blade propellers;
8G/40CH FPV video transmitter (0mW/25mW/100mW power);
FlySky IBUS, FrSky D16 or DSMX radio receiver.
Weight: about 45g (without battery)
Motor(4S): skystars 1103 8000KV, race edition,hollow shaft, Made of NSK bearings and curved magnets for longevity and efficiency
However, some buyers receive an actual weight of 50g.
2.Specs of the FC:
F4, MPU6000
Input Voltage: 7.4V – 22V (2S – 4S)
5V 1.5A BEC
Supports Betaflight OSD
3 UART
UART1 is free (can be used for DSMX and iBus)
UART3 for VTX SmartAudio
UART6 for Frsky SBUS (built-in inverter)
Dedicated solder pads for LED, Buzzer and RSSI
It is a 20x20mm stacks, so its heat dissipation is better than 16x16mm stacks, and the basic components such as capacitors have more space,but it is a few grams more than 16x16mm stacks.
3.Specs for the 4in1 ESC:
BB21 MCU, BLHeli_S Firmware 16.6
Input Voltage: 2S – 4S (7.4V-16.8V)
Current Rating: 15A Continous, 20A Burst
ESC Protocol Support: Oneshot125, Multishot and Dshot600
Board Size: 25x24x4.8mm
4.The VTX is sitting on top of the FC stack. Here is the spec:
Output power: 0mW (OFF) /25mW / 100mW switchable
Settings via push button OR VTX Control (SmartAudio Protocol)
Voltage Input: 5V, 40mA @ 100mW
Antenna Connector : IPEX (U.FL)
Frequency: 5.8GHz 5 bands 40 channels
Weight: 0.9 g
Dimension: 16*13*3mm
Mounting Hole: 20mmx20mm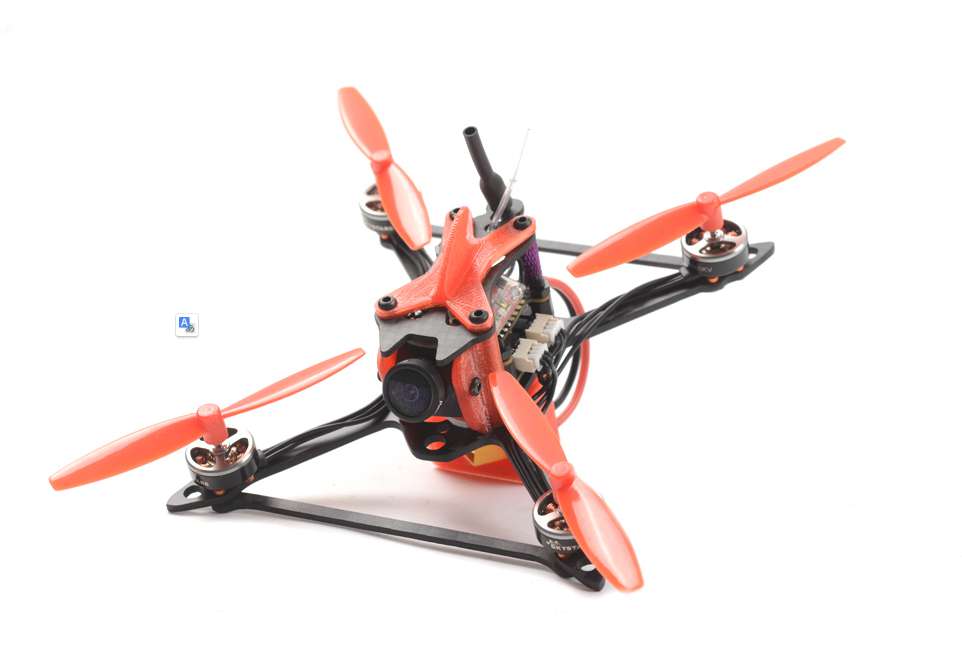 5.Specs of camera:
Runcam nano 2
Image Sensor: 1/3″ CMOS
Horizontal Resolution: 700TVL
Lens: 2.1mm (M8) FOV 155°
Signal System: NTSC / PAL
S/N Ratio: >50dB
Electronic Shutter Speed: Auto
Auto Gain Control (AGC): Auto
Illumination: [email protected]
D-WDR: Auto
Day/Night: Color
Power: DC 3-5.5V
Current: [email protected]
Housing Material: ABS
Net Weight: 3.2g
Dimensions: L14mm*W14mm*H16mm
Two ways to install the battery are available, and the included 3D printed TPU mounts can be used, and Velcro straps can be used, which can be fitted with different sizes of batteries. The strap may be a more convenient and flexible solution.
Lipo battery, 2S 450mAh and 3S 300mAh are enough to meet this quad.