The XRT 8S vs X-Maxx is a hot topic of conversation among Traxxas enthusiasts these days. Is the XRT a step up from the X-Maxx? No, it is not. Our RC Pro racers have spent dozens of hours actually testing them and comparing them, and the results are in. If you're on the fence between the XRT and the X-Maxx, then don't worry yet, this article will help you.
Don't you have time to read all the reviews about them? No matter, here I can give a simple conclusion straight away.
X-Maxx: Powerful off-road performance | Better backflip | King on rough terrain
XRT: Higher speed | More stable | Better performance on flatter terrain
They are different styles of large off-road vehicles, so the best answer to "which is better" is that it all depends on your preferred driving style.
Furthermore, if you are interested in a detailed comparison between them, then the following is exactly what you are looking for.
Comparison of Basic Parameters
| | | |
| --- | --- | --- |
| Vehicle | X-Maxx | XRT |
| Photo | | |
| Scale | 1/5 | 1/5 |
| Speed | 50+ mph | 60+ mph |
| Size(L×W×H) | 779×540×350mm | 798×595×258mm |
| Weight | 8.66kg | 9.54kg |
| ESC | Velineon® VXL-8s | Velineon® VXL-8s |
| Motor | Velineon® 1200XL Brushless | Velineon® 1200XL Brushless |
| Chassis Material | Composite Nylon Tub | Composite Nylon Tub |
| Battery Tray | 197×51.5x44mm | 186×51×44mm |
| Battery | 2 4S LiPo Battery | 2 4S LiPo Battery |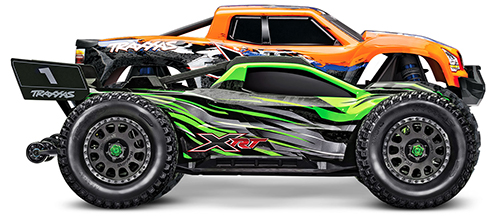 Size and Shape
As you can see from the chart, although they are both 1/5 scale RC off-road cars, there are two distinct differences.
X-Maxx is taller. The high chassis has greater ground clearance, a design that is intended for the X-Maxx to have the better off-road capability, especially when driving over rough terrain.
Conversely, the XRT has a lower chassis, which means it is an off-road vehicle designed for speed. This is in line with Truggy's character. (Tips: Truggy comes from the combination of truck and buggy)
To ensure stability and handling at high speeds, the XRT is designed to be wider and have an additional high-downforce wing. in addition, the high-downforce wing allows for a smoother landing, reducing the transfer of impact energy to the chassis.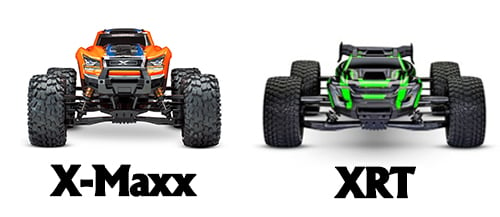 Power System
When it comes to the power system, the XRT has the same configuration as the X-Maxx, a Velineon® VXL-8s ESC, a Velineon® 1200XL brushless motor, and support for running two 4S lipo batteries.
One thing that needs to be mentioned is that the XRT has two cool heat sinks on top of the motor. This design is a real eye-catcher. Because these large RC cars generate a lot of heat running an 8s powertrain. The radiators provide good heat dissipation when the motor is running at high speed, extending the life of the motor.
In addition to these major parameter comparisons, we also conducted actual driving tests on the XRT and X-Maxx. What follows is a detailed comparison of their performance.
XRT vs X-Maxx: Performance
Speed and Handling
In terms of speed and handling, the low center of gravity, wider stance, and big shark body make the XRT the winner. Running two Ovonic 100C 4s 8000mAh lipo batteries makes it easy to exceed 60 mph on flat roads.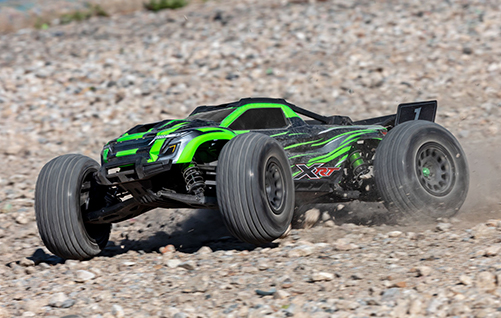 When it comes to cornering, the XRT performs better, especially at high speeds where it doesn't easily lose control. Whereas in this case, high center of gravity and high stance X-Maxx tends to roll over.
Is the X-Maxx a loser? Not really.
The X-Maxx is a nimble monster, built for off-roading! The large ground clearance allows him to easily overcome any rough terrain. In addition, it has an amazing big jumping ability. As long as you control the throttle, you can do beautiful backflips.
X-Maxx self-righting system lets you enjoy RC off-roading to the fullest! If it flips sideways, you can make it shake with the self-righting feature UNTIL it flips back onto its tires.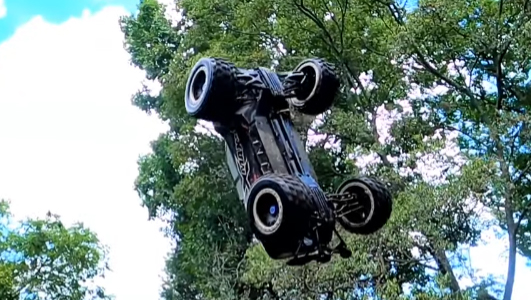 Obviously, the X-Maxx is slightly better at two of the above.
Durability
The sophisticated all-metal drivetrain gives the XRT and X-Maxx outstanding durability. In addition, the XRT is slightly better in this area because of the new design used in the XRT.
Compared to the X-Maxx, the XRT is stronger with its clipless body that is easily removed and installed. The body's cold air intake and motor radiator extend the life of the power system.
The High-Downforce wing and integrated wheelie bar allow the XRT to reduce the risk of damage when landing.
XRT vs X-Maxx: Which is Better?
After the detailed comparison above, we can summarize their features.
XRT(Truggy):
Powerful off-road capable racer, more stable altitude ride and cornering performance
Suitable for driving on flatter terrain
More durable
X-Maxx (Monster truck):
Easy to overcome any terrain
Stunt truck with powerful off-road capabilities, such as backflips, big jumps
Which one should you choose? If you crave speed and maneuverability, then the XRT is for you. If you like bashing, then X-Maxx is undoubtedly the best choice.
Do you want to know more about Traxxas XRT vs X-Maxx? Watch this video.
If you are interested in the topic of Traxxas 1/5 scale XRT 8S vs Arrma 1/5 scale Kraton 8S, please read this article (XRT vs Kraton).