Recently, Traxxas launched a new 1/5 scale Truggy, the XRT 8S, which has amazing speed and power. So far, it is considered by many as a direct competitor to the Arrma Kraton 8S. So in response to this hot topic, I went through the actual test and compared them carefully.
Well, in appearance they are very similar, but in detail they are different. If you are still struggling to decide which is better, then the following will help you make an informed choice.
Basic Parameters: XRT 8S vs Kraton 8S
| | | |
| --- | --- | --- |
| Vehicle | Traxxas XRT 8S | Arrma Kraton 8S |
| Photo | | |
| Scale | 1/5 | 1/5 |
| Speed | 60+ mph | 55+ mph |
| Size(L×W×H) | 798×595×258mm | 760×602×266mm |
| Weight | 9.54kg | 11kg |
| ESC | Velineon® VXL-8s | Firma™ Smart 160A |
| Motor | Velineon® 1200XL Brushless | 1250Kv Spektrum™ Firma™ Brushless |
| Chassis Material | Composite Nylon Tub | Aluminum chassis plate |
| Battery Tray | 186×51×44mm | 180x55x53mm |
| Battery | 2 4S LiPo Battery | 2 4S LiPo Battery |
Driving Performance
After the actual test, the simple conclusion is that the XRT is slightly better in terms of speed and jumping, while the Kraton is the winner in terms of cornering.
The XRT 8S inherits the excellent handling of Traxxas' previous vehicles. As mentioned above in terms of weight, the XRT sacrifices its durability to improve driving performance. Especially when jumping, it handles impressively with backflips in the air. This is a boon to those basher seeking the ultimate.
When it comes to cornering, I think the Kraton 8S is the best large RC car. The low center of gravity gives you the ultimate stability in corners. This means you can turn at high speeds without worrying about rolling over.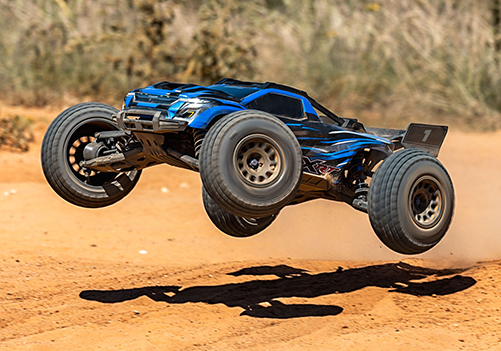 Durability
Compared to the XRT's Composite Nylon Tub, Kraton's aluminum metal chassis is much stronger. It can take the impact of landings well, especially big jumps of 30-50 feet. The Kraton 8s is about 1.5kg heavier than the XRT 8S because most of its components are made of more precise metal parts.
One thing that has to be mentioned, however, is that the Arrma 8s have been having problems with the differential coming loose. Unless you are willing to spend extra to upgrade the stock differential.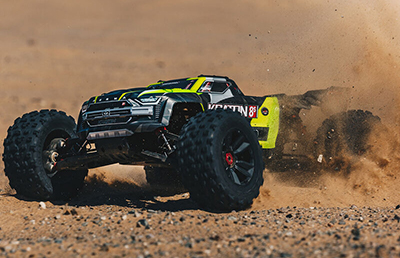 Maintenance and upgrades
Surprisingly, this time Traxxas launched the XRT 8S with a higher price tag than the Kraton 8S. But there's no denying that the Traxxas is cheaper to maintain and upgrade, and has a wider range of accessories. If you are a racer who likes to build, then the XRT is perfect for you.
XRT 8s vs. Kraton 8s: Which is Better?
After the detailed comparison above, we can conclude their pros and cons. As follows:
Traxxas XRT 8S:
More agility, excellent acceleration, and jumping ability
Lower maintenance and upgrade costs
XRT sacrifices durability for performance
XRT has a higher pre-sale price than Karton
Arrma Kraton 8S:
Extremely high-precision metal parts ensure durability
Stable handling
Slightly heavier compared to the XRT
Higher maintenance and upgrade costs
As described above, there is no clear line between XRT 8S and Kraton 8S, it all depends on your driving style and needs. The answer to the question "which is better" is very subjective, Traxxas and Arrma are both great RC car manufacturers and the quality of their products are superior, so you don't have to worry about that.
If you are interested in Traxxas XRT vs X-Maxx, please read this article (XRT vs X-Maxx).
Frequently Asked Questions
Q: What are the budget batteries for XRT 8S and Karton 8S?
A: They both have two battery trays, so you can run 2 3s lipo or 2 4s lipo. The recommendations are as follows.
Q: What is Truggy?
A: You can understand it as Truggy is a combination of truck and buggy, it has both the off-road performance of a truck and the driving performance of a buggy.