Sort by size
FPV drones are often named after the diameter of the propeller. For example, the most common 5-inch machine refers to a drone with a propeller of 5 inches in diameter. In addition, an FPV drone with a propeller smaller than 3 inches is usually defined by a diagonal motor wheelbase.
Common types of FPV drones are as follows:
Propeller size
Wheelbase
Application
speed
flight duration
battery
(inch)
(mm)
(km/h)
(min)
1.5″~2″
50~100mm
Tiny Whoops/Freestyle
80 km/h
3~5
300mAh 1S 45C
2.5″
100~140mm
Freestyle/Cinewhoop
100 km/h
3~8
4S 850mAh 80C
3″
140~180mm
Freestyle/Cinewhoop
120 km/h
3~10
1300mAh 6S 100C
5″
200~220mm
Racing/Freestyle/Camera
200 km/h
3~10
1200mAh 6S 120C
6″~7″
250~500mm
Long Range/Camera
150 km/h
10~15
2200mAh 4S 35C
8"+
600mm+
X-Class
150 km/h
2~5
5200mAh 6S 80C
Classified by function
1. Tiny Whoops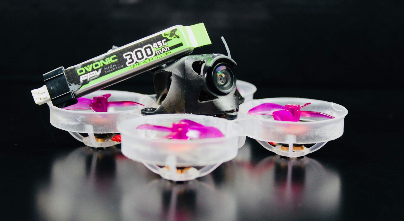 It is named after a protective ring around the blade. The existence of Tiny Whoops makes FPV drones relatively safe and crashworthy, suitable for flying indoors, and is the best choice for novices to get started. Tiny Whoops motors are usually divided into two types: brush motors and brushless motors.
2. Cinewhoops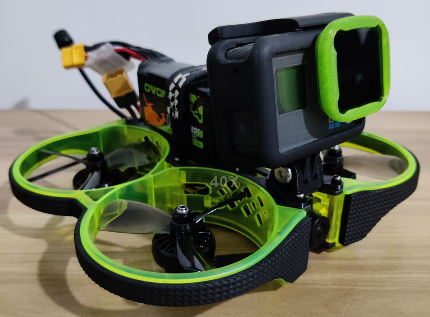 Compared to Tiny Whoops, regular Cinewhoops are more than 2.5 inches in size and have a wider and thicker appearance. In addition to being safer and more resistant to crashes, it can also improve power to a certain extent. Cinewhoops can be additionally equipped with sports cameras for use in cameras.
3. Racing Drones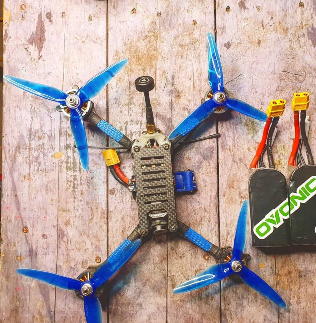 The 5-inch racing drone is the most common type of FPV drone. Its weight, speed, and stability are all balanced. The 5-inch drone is the model with the most complete hardware and software support on the market, so a 5-inch drone is generally recommended for the first assembly. In addition to the standard FPV drone racing game, the 5-inch drone can also be used in freestyle or camera.
4. Toothpicks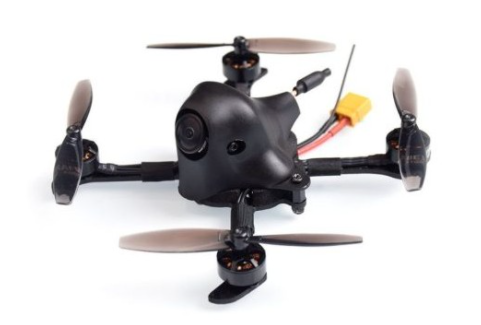 The toothpick drone is named after its thin arm. Because the smaller the drone size, the more difficult it is for the propeller's lift to overcome its weight. The 2.5~3 inch drone reduces part of its weight through the design of the thin arm. The toothpick drone is fragile and not suitable for novices.
5. Long-range drones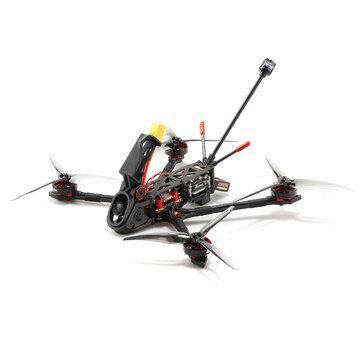 Long-range drones are used for long-distance cameras, usually with slender arms, and use high-power and low-current batteries to ensure flight time.
6. X-Class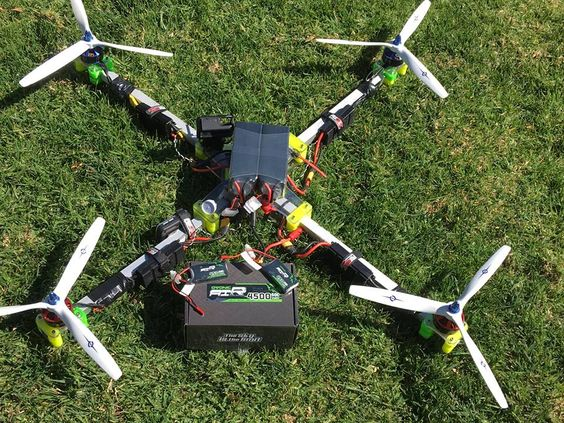 X-class drones are relatively rare because of high production cost, difficult operation, and high risk.
RTF bundle、RTF and BNF
In order to simplify the assembly process, many manufacturers will also launch pre-assembled FPV drones, including RTF, RTF, and BNF. Although these Bundles can simplify the process of getting started, they also involve relatively complicated issues such as maintenance or adjustment of parameters, requiring you to have a certain knowledge and skills accumulation.
1.  RTF bundle
RTF is a Bundle designed for players who don't have any FPV equipment or want to start flying quickly. It generally contains all the components needed by FPV drone, including FPV system, remote control system, battery and charger, and full-featured drone. Usually, all the parts have been assembled and matched, and you can fly when you get it. It is very suitable for players who have no experience in flying and assembling.
2. RTF(Ready-to-fly) and BNF (Bind-and-fly)
RTF and BNF are designed for players who already have remote controls and FPV equipment.
RTF is ready to fly. The difference from the FPV bundle is that RTF does not include FPV glasses and remote control, but is equipped with a remote control signal receiver. When you choose RTF, you need to make sure that the drone's receiver is compatible with your own remote control.
BNF stands for Bind and fly. The difference from the FPV bundle is that BNF does not include FPV glasses, remote control, and remote control signal receiver. If you already have FPV glasses and a receiver, you need an additional signal receiver and FPV battery.
In addition, different manufacturers may have different definitions of RTF and BNF. You need to confirm the parts list when you choose.
The above is the FPV drone-related knowledge provided by the Ovonic battery.