Are you still wondering which is better X-Maxx or Kraton 8s? Then you've come to the right place. The following sections will compare their characteristics in detail, let's delve into them together!
Specifications comparison
| | | |
| --- | --- | --- |
| Specs | X-Maxx | Kraton |
| Scale | 1/5 | 1/5 |
| Car type | Monster Truck | Monster Truck |
| Speed | 50+ mph | 55+ mph |
| Size | 758×540×350mm | 760×602×266mm |
| Weight | 8.66kg | 11kg |
| Motor | 1275kv | 1250Kv |
| ESC | VXL-8s 200A | Firma™ Smart 160A |
| Drive | 4wd | 4wd |
Appearance: Compared to the Kraton, the X-Maxx is slightly larger in size, but lighter. They are about the same size, and visually, they are similar.
Traxxas X-Maxx review
Highlights:
All around basher
Low running sound
Low cost
Speed: The wild X-Maxx is like an all-around attacker, which means more fun. It will be a winner when it comes to stunts like jumping, flipping, etc. Impressed by its incredible speed, it runs, drifts and jumps on land like afloat. Traxxas claims it can reach speeds of 50+ mph, and if the TSM is turned down, it could fly to the moon.
Noise: Compared to the Kraton, the X-Maxx runs quieter. It's up to your personal choice, some people like loud motor noises that sound like monster roars.
In addition, Traxxas parts cost less, and when you replace or upgrade parts, you will save even more. This is one of the reasons why so many people choose Traxxas over Arrma.
Arrma Kraton review
Highlights:
High speed
Better handling
Speed: The Kraton is more stable thanks to the low center of gravity chassis. Cornering is quicker and the chances of a rollover are greatly reduced, which is better than the X-Maxx. Kraton is put on the road and it can't be beaten by the X-Maxx. Its speed is claimed to be 55+ mph, but according to testing, it can reach 75 mph.
Durability: The Kraton 8s has a metal base that is stiffer and more durable. You don't have to worry about the chassis being crashed when the car is jumping.
Which is better?
They each have their pros and cons. Choosing which one comes down to your driving preferences. X-Maxx is suitable for any terrain, if you like to run on sandy ground and grass, then it will give you more fun. Kraton is known as a pure race car, with great handling, and if you like to drive fast, don't miss it.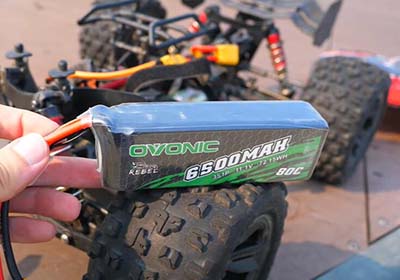 Battery recommendation
For X-Maxx and Kraton 8s, Ovonic introduced reasonably priced lipo batteries with long running times and durability. If you're looking for a replacement battery, Ovonic won't let you down.