Choosing the correct RC connector will keep your RC model running properly. When you upgrade your battery, motor, or ESC, you need to pay attention to whether the connector fits the current drivetrain. So what's the difference between XT90, XT150, and AS150? This article will answer this question in detail.
Comparison of Parameters
| | | | |
| --- | --- | --- | --- |
| Connector | XT90 | XT150 | AS150 |
| Photo | | | |
| Amperage | 90A | 150A | 180A |
| Rated Voltage | 500V DC | 500V DC | 500V DC |
| Wire Gauge | 10-12AWG | 8AWG | 6-8AWG |
| Temperature Range | 120℃ Max | 120℃ Max | 120℃ Max |
| Plug Type | 5mm bullet | 6mm bullet | 7mm bullet |
XT90 vs XT150
Both XT90 and XT150 are made of high-temperature nylon with gold-plated bullet tips. They have the ability to handle high currents and are commonly used in RC cars and RC aircraft. As the diagram shows, they are easily recognizable and their main difference is their different current handling capabilities. XT90's bullet is 5mm in diameter while XT150's is 6mm and has a larger contact surface area, which means it is suitable for larger batteries, ESCs, or motors.
XT150 vs AS150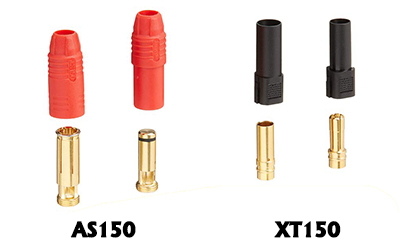 As you can see, the XT150 looks similar to the AS150 connector, but the details are different. the AS150 connector has a thicker bullet, 7mm, and can handle 180A.
Which is Better?
It all depends on the amount of current you need to handle. The delivery of current affects the performance of the power system, and for best results, you need to use the right connector. If the current exceeds the handling capacity of the connector, it can cause the connector to generate a lot of heat and can even melt and destroy your equipment.
Don't you know anything about current? It doesn't matter. XT90 is commonly used for 4s to 6s lipo batteries, and XT150 and AS150 are commonly used for 6s+ lipo batteries. As mentioned above, if the plug is hot while you are using them, then you may need to replace the connector with a larger one.